[ The Library ] [ 150 Main Street ] [ Sims 2 stories ] [ Info ] [ Clothes ] [ Walls ] [ Floors ] [ Neighbourhood Terrains ] [ Mega Hood ] [ Houses ] [ Community ] [ Dormitories ] [ Apartments ] [ Oddness ] [ Single Sims ] [ Families ] [ Archiving ]
[ Auriel HQ and Park ] [ Weiss ] [ Shurland House ] [ Steam ] [ Pargeter ] [ Damerel Street ] [ Llandudno Blue ] [ Kremlin Estate ] [ Department Store with Penthouse Suite ] [ Simple Shop with Flat ] [ Abbey Gatehouse ] [ Bell Edge ] [ Dragon Tower ] [ Dunroamin' ] [ Early Cottages ] [ Green Arbor ] [ Laura Lodge ] [ Pyramid ] [ Rodbridge ] [ Stock 1 ] [ Yule Tower ]
Weiss
Made with all EPs and stuff packs to Free Time and will need Free Time to work in your game. Only EAxis content used.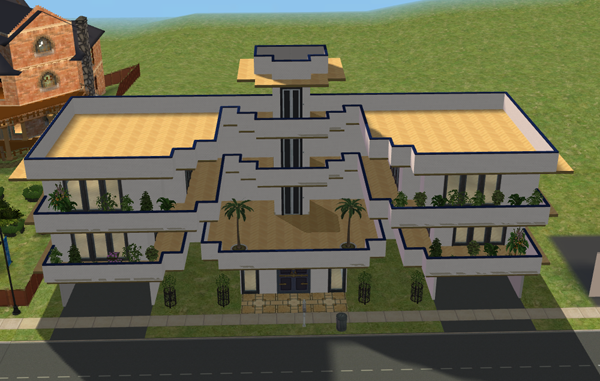 This modern house would work well as a luxury student dorm, a hotel, or a modern family home. I made it to use as a home business, with Open For Business.
It is unfurnished, apart from plants. It has two built-in carports, several sheltered balconies for watching the stars or the neighbours. All floors are reached by lift, including the roof-space which would be an excellent summer party space, or might be suitable for a hot tub.
There are four main rooms and an entrance hall, which could be subdivided as required.
Cost: §51,677
Download as a Home (ie at least one Sim would live here)
Also available as a Community Lot Download
---
Sita March 14, 2018