[ The Library ] [ 150 Main Street ] [ Sims 2 stories ] [ Info ] [ Clothes ] [ Walls ] [ Floors ] [ Neighbourhood Terrains ] [ Mega Hood ] [ Houses ] [ Community ] [ Dormitories ] [ Apartments ] [ Oddness ] [ Single Sims ] [ Families ] [ Archiving ]
[ Auriel HQ and Park ] [ Shurland House ] [ Steam ] [ Pargeter ] [ Damerel Street ] [ Llandudno Blue ] [ Kremlin Estate ] [ Department Store with Penthouse Suite ] [ Simple Shop with Flat ] [ Abbey Gatehouse ] [ Bell Edge ] [ Dragon Tower ] [ Dunroamin' ] [ Early Cottages ] [ Green Arbor ] [ Laura Lodge ] [ Pyramid ] [ Rodbridge ] [ Stock 1 ] [ Weiss ] [ Yule Tower ]
Abbey Gate House
Made with all EPs and stuff packs to Free Time and will need Free Time to work in your game. Only EAxis content used.
This historic house might suit a mediaeval themed neighbourhood or make a great addition to a mixed modern one. It would probably suit a fairly eccentric Sim.
Abbey Gatehouse exists in an English city called Tewkesbury, where there are many mediaeval buildings running off narrow lanes, blending with Tudor and later homes and shops.
The abbey and its gatehouse, grand buildings originally made in about 1500, were restored in 1849 by J. Medland. It belongs to the Landmark Trust now, and you can rent the house for holidays.
The gatehouse has one main room for living in, above the gallery which opens above the main throughway. The main path leading across and through the gatehouse would go to the Abbey, but your Sims can assume this is now a ruin...
There is a spiral staircase leading up the building at one side.
In my Siminised version, I've slightly rearranged the rooms. The bedroom is now on the middle floor rather than the attic, I have added access to the roof space for astronomer or partying Sims, and a driveway because my Sims ALWAYS want cars.
There is one single bedroom and bathroom, and a pleasant living\dining room and plenty of space on the roof and in the main gatehouse which is probably no longer used by horses or vehicular traffic.
To make the house accommodate a larger family, I would suggest you replace the large arches on the ground floor with doors and use that as living space, converting the top living room to a bedroom.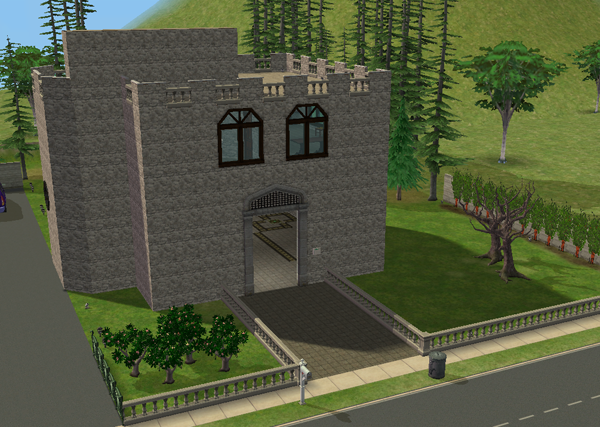 Cost: §82,223
---