[ The Library ] [ 150 Main Street ] [ Sims 2 stories ] [ Info ] [ Clothes ] [ Walls ] [ Floors ] [ Neighbourhood Terrains ] [ Mega Hood ] [ Houses ] [ Community ] [ Dormitories ] [ Apartments ] [ Oddness ] [ Single Sims ] [ Families ] [ Archiving ]
[ Auriel HQ and Park ] [ Steam ] [ Pargeter ] [ Damerel Street ] [ Llandudno Blue ] [ Kremlin Estate ] [ Department Store with Penthouse Suite ] [ Simple Shop with Flat ] [ Abbey Gatehouse ] [ Bell Edge ] [ Dragon Tower ] [ Dunroamin' ] [ Early Cottages ] [ Green Arbor ] [ Laura Lodge ] [ Pyramid ] [ Rodbridge ] [ Stock 1 ] [ Weiss ] [ Yule Tower ]
Kremlin Estate
Made with all EPs and stuff packs to Mansions and Gardens and will need most of them to work in your game. Only EAxis content used.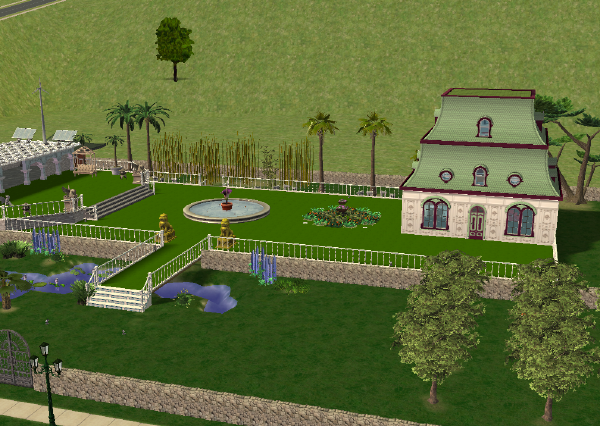 Inspired by a photograph of the Kremlin, but this is NOTHING like it!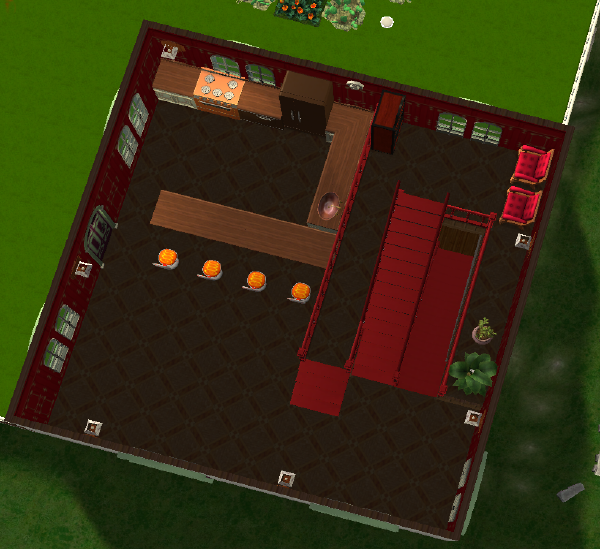 There is a tiny house, just large enough for one Sim, with beautiful landscaped gardens - part formal and part informal, with parking space for two cars and an orchard... It's a 5x6 Lot, but runs smoothly unless too full of Sims.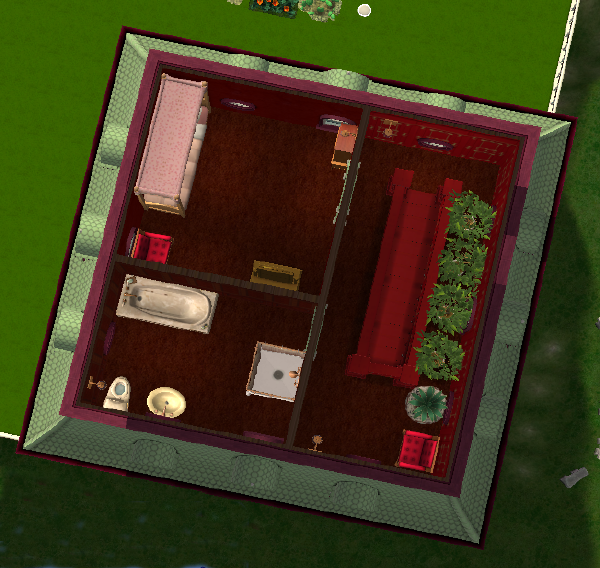 One single bedroom, one bathroom. Also one fountain, one sauna, one garden bench, one pool, one bridge.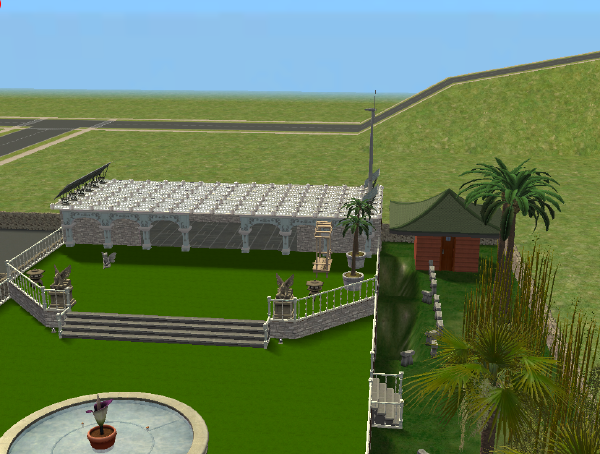 In the garden there is a pavilion or summerhouse. This could be a good playroom, or a place for concerts... You might want to put some transparent tiles onto the pavilion roof, to protect Sims from the weather - at the moment there is gridwork ready to take trailing plants, which have not been planted yet. To the rear of the summerhouse there is a sauna.
In the centre of the large fountain is a special arum lily. There are a few sculptures dotted about the place. This would be a fine home for a Sim who liked to collect such things - or a home business lot with fun things for visitors to do.
And the hidden surprise - extensive cellars underlie most of the raised garden. There is a secure cell and some private rooms, usable for whatever your Sims could want, or of course for more living space. I had thought of using the first cellar you come to down the stairs for the wine cellar, and then a lockable door to give access to the remaining rooms down there. The whole basement area is currently unfurnished. All the basement rooms have windows.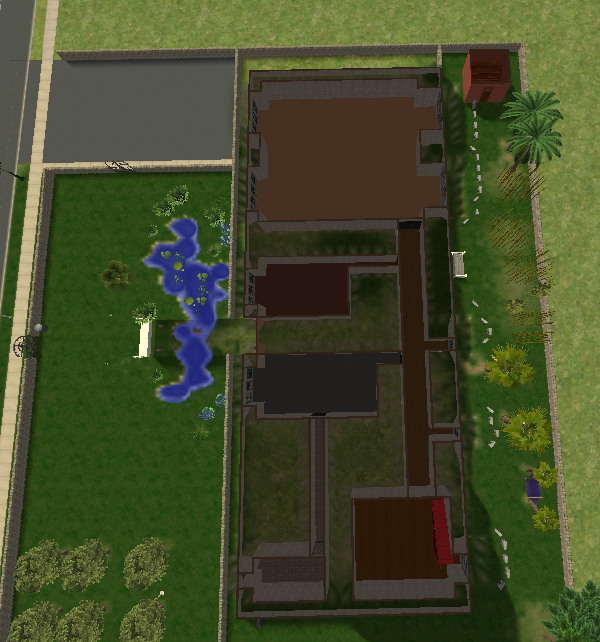 Cost: §176,656
---