[ The Library ] [ 150 Main Street ] [ Sims 2 stories ] [ Info ] [ Clothes ] [ Walls ] [ Floors ] [ Neighbourhood Terrains ] [ Mega Hood ] [ Houses ] [ Community ] [ Dormitories ] [ Apartments ] [ Oddness ] [ Single Sims ] [ Families ] [ Archiving ]
[ Auriel HQ and Park ] [ Shurland House ] [ Steam ] [ Pargeter ] [ Damerel Street ] [ Llandudno Blue ] [ Kremlin Estate ] [ Department Store with Penthouse Suite ] [ Simple Shop with Flat ] [ Abbey Gatehouse ] [ Bell Edge ] [ Dragon Tower ] [ Dunroamin' ] [ Early Cottages ] [ Green Arbor ] [ Laura Lodge ] [ Pyramid ] [ Rodbridge ] [ Stock 1 ] [ Weiss ] [ Yule Tower ]
Green Arbor
Made with all EPs and stuff packs to Free Time and will need Free Time to work in your game. Only EAxis content used.
Green Arbor is a home made for those Sims who really want to get back to nature. Not for them the busy world of commerce and entertainment. The nearest shop can be three miles away and they will be delighted. The woodland encroaches so near to the house that their only neighbour problems are from squirrels chewing their Internet cables.
But at the front there is the road to work, a simple carport to protect their essential transport, and a respectably small suburban-style front garden.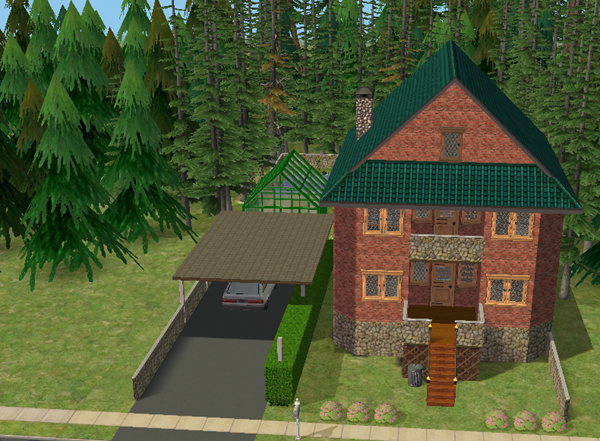 Three bedrooms, one and a half bathrooms, kitchen, basement, attic, greenhouse and carport, large deck to sit out on and catch the sun. There is a pond in the garden too. (Most of the pines in the picture are Neighbourhood Decoration but are visible in play mode; some actually belong to the lot).
Cost: §75,436
---