[ The Library ] [ 150 Main Street ] [ Sims 2 stories ] [ Info ] [ Clothes ] [ Walls ] [ Floors ] [ Neighbourhood Terrains ] [ Mega Hood ] [ Houses ] [ Community ] [ Dormitories ] [ Apartments ] [ Oddness ] [ Single Sims ] [ Families ] [ Archiving ]
[ Auriel HQ and Park ] [ Shurland House ] [ Steam ] [ Pargeter ] [ Damerel Street ] [ Llandudno Blue ] [ Kremlin Estate ] [ Department Store with Penthouse Suite ] [ Simple Shop with Flat ] [ Abbey Gatehouse ] [ Bell Edge ] [ Dragon Tower ] [ Dunroamin' ] [ Early Cottages ] [ Green Arbor ] [ Laura Lodge ] [ Pyramid ] [ Rodbridge ] [ Stock 1 ] [ Weiss ] [ Yule Tower ]
Bell Edge
Made with all EPs and stuff packs up to and including Mansions and Gardens.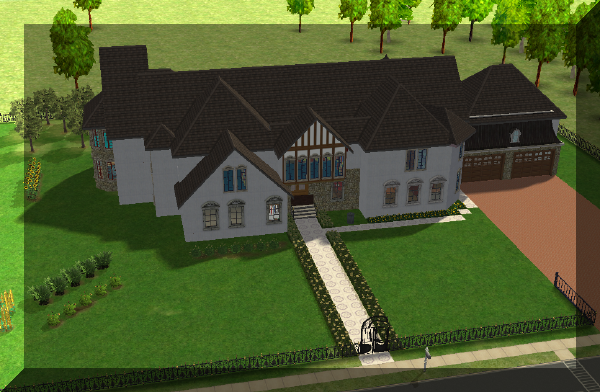 This large family house is quite luxurious. In English 20th century Tudor style, on the ground floor it has a large central gallery with a family room, kitchen, double garage, ground floor master suite with his-and-hers bathrooms, and a "granny suite" or study. On the first floor there are several more bedrooms. I have not separated off or furnished bathroom suites there, to keep the initial purchase price down, and the house is only partially furnished and decorated, with EA content only.
There is a children's playroom or music room over the double garage; the grounds are gently landscaped with a small fruit orchard and a pond which may well contain fish.
Cost: §156,559
---