[ Sims 2 Stories ] [ Monty in RiverBlossom ] [ Pleasant Update ] [ The Auriels ] [ Jan Tellermann ] [ Senza Parole ] [ The O'Mackeys ] [ Petite Fleurs ] [ Three and a Half Goths and one Traveller, Bells, Dreamers ] [ Love ] [ Jessica's Conversion ] [ Some time later in the Uberhood ] [ The Sad Sad Tale of Jessica Peterson ] [ Belladonna Cove ] [ Strangetown Bulletin 1 ] [ Jan Tellerman ]
Winkses and a couple of Kats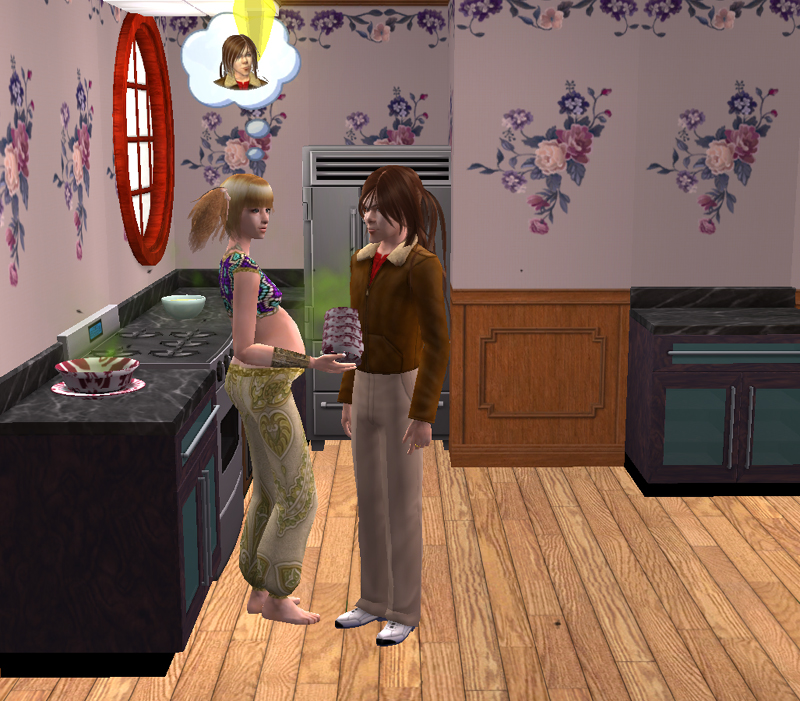 "This is a lovely apartment, but it isn't really a great place for children."
"I know. I keep seeing the Wilkie's little girl asleep at the bottom of the stairs. And he seems to have - well, great difficulty in finding his shower. I think he's getting a little potty..."
Living in an expensive apartment meant they hadn't saved much. Now it suddenly seemed important to get a new place that was their very own, with fresh air and no neighbours that were too close.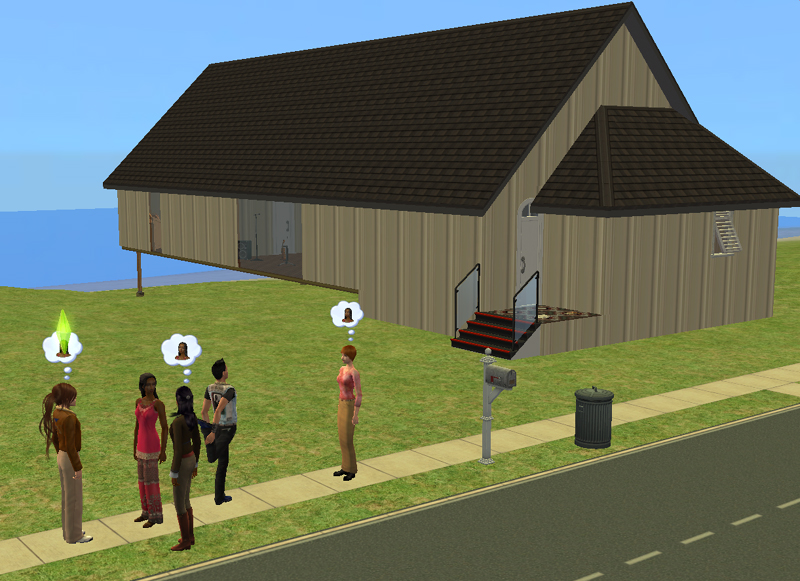 So the Winkses moved into a beach lot, and started with a prefab house.
Widdle had plans to develop it into a lovely home for them. Hazel was too pregnant to care much about it, so long as they had a bathroom.
"But a place to make music would be great."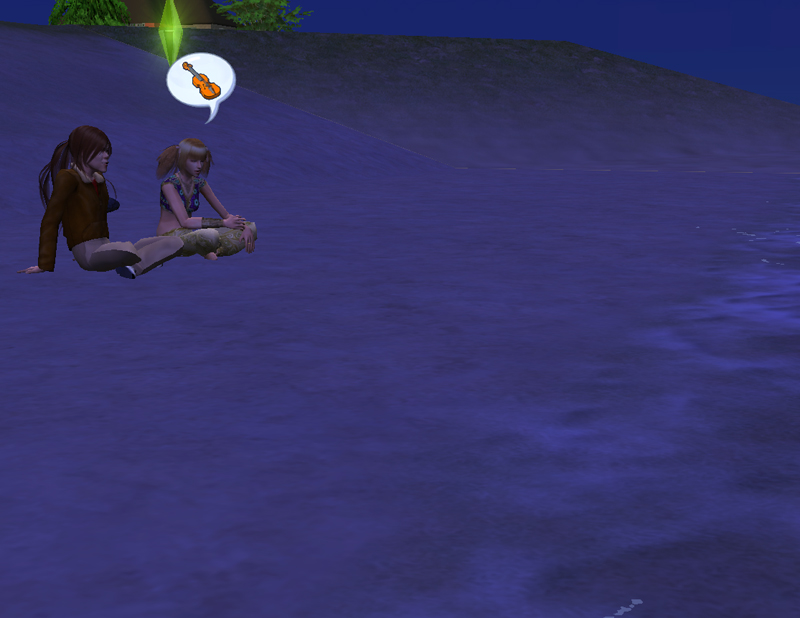 Soon, baby Hibiscus was born.
Hazel went back to work and was promoted. And she was pregnant again. All this time, work on the house continued.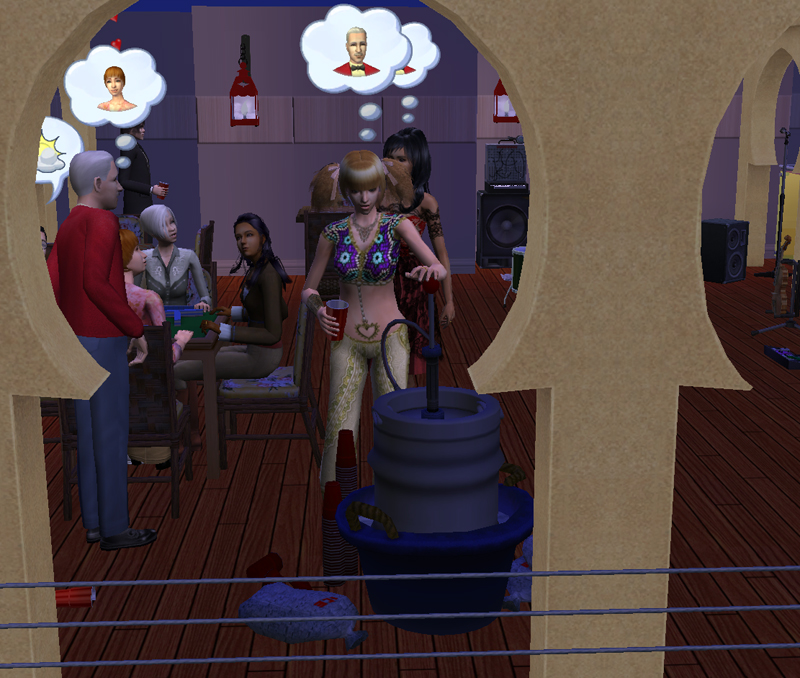 And the parties continued. Widdle always held amazing, busy, rowdy parties, and in the new home there were no neighbours to annoy. Hazel (very pregnant in the picture above, though it's not very apparent from this angle) gave birth just after this party. She admits to drinking too much while pregnant, and maybe when she named the baby too... it was a little boy, so she called him Wizzel.
Very fair-skinned, both Hazel and Hibiscus caught the sun easily, so they decided to roof over the deck.
Hibiscus might need glasses. She's finding it hard to see the cake. She also needs a hairdresser.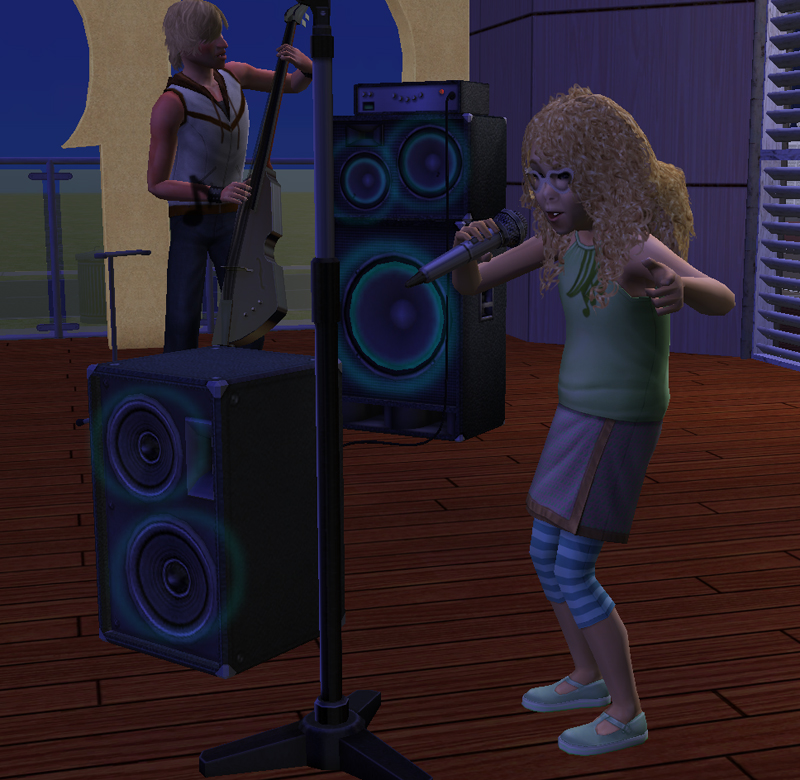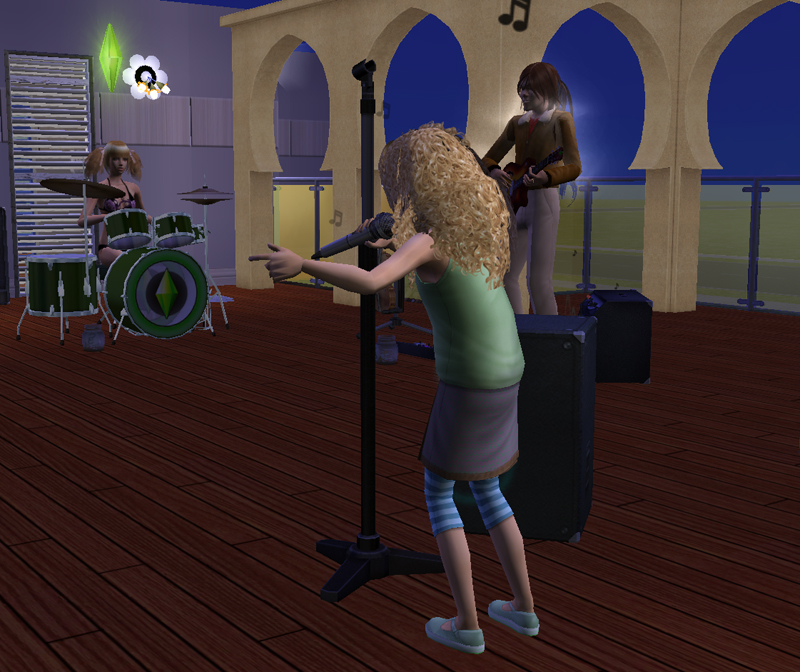 She is a highly charismatic, Miss Piggy of a child. Spoilt, and determined to get her own way, and can be astonishingly sweet with it.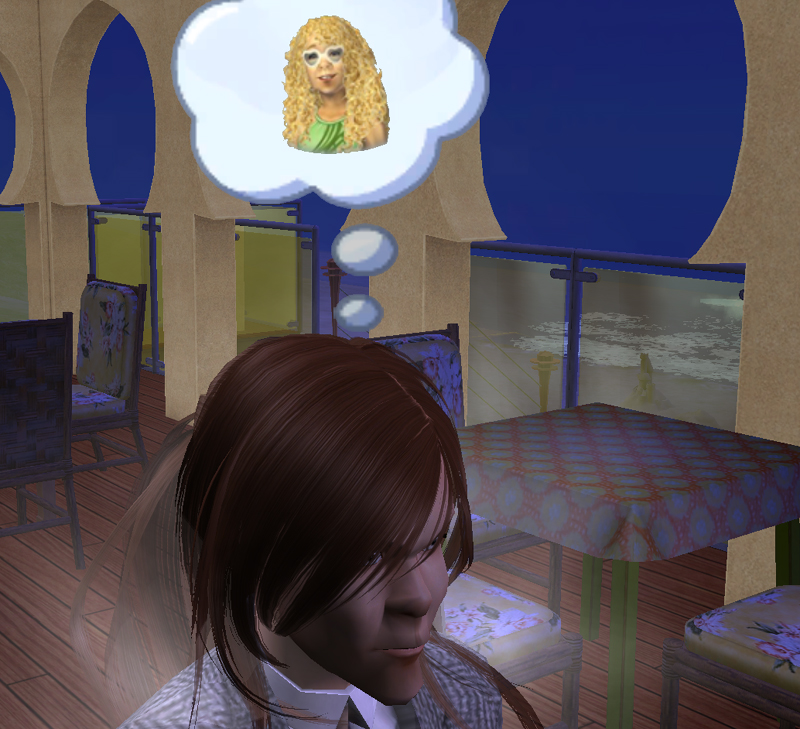 Widdle was justly proud of his little girl.
The House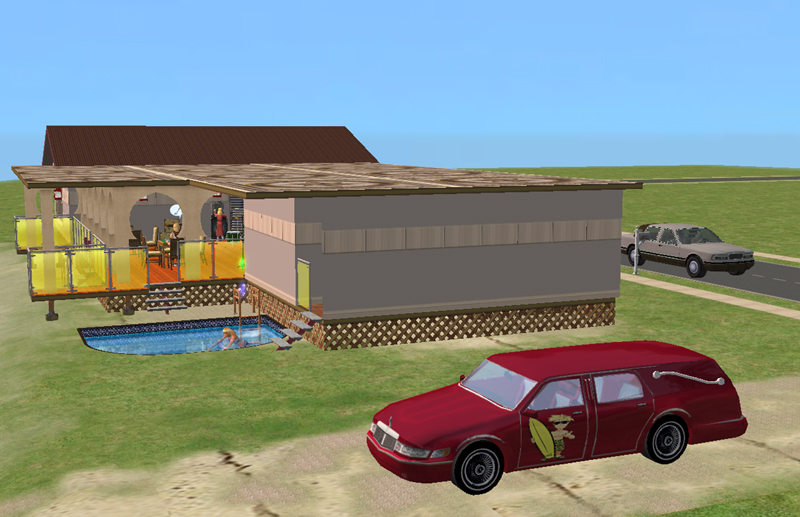 Tiddle's rather pleased with his Surfin' Hearse.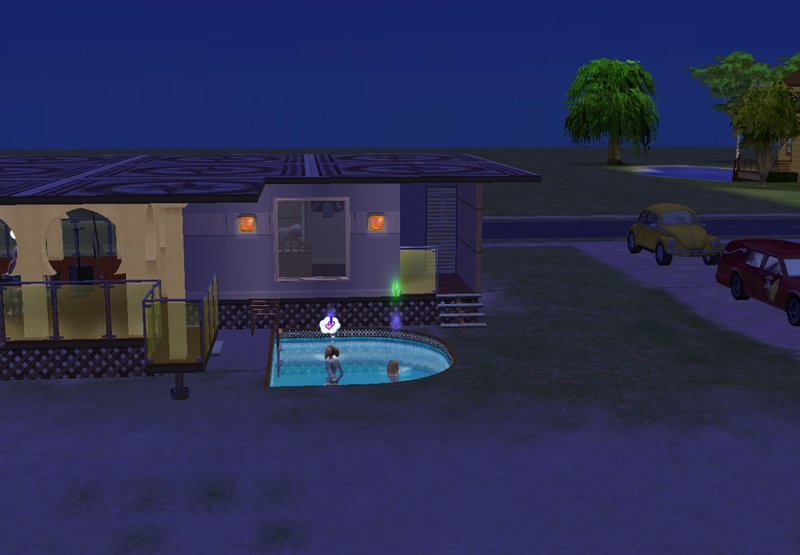 It even had a small pool to cool down in on those overheated summer nights, or after too much time in the sun.
---
Tiddle Winks
Tiddle Winks, Widdle's twin, still lived by himself in an apartment in BC.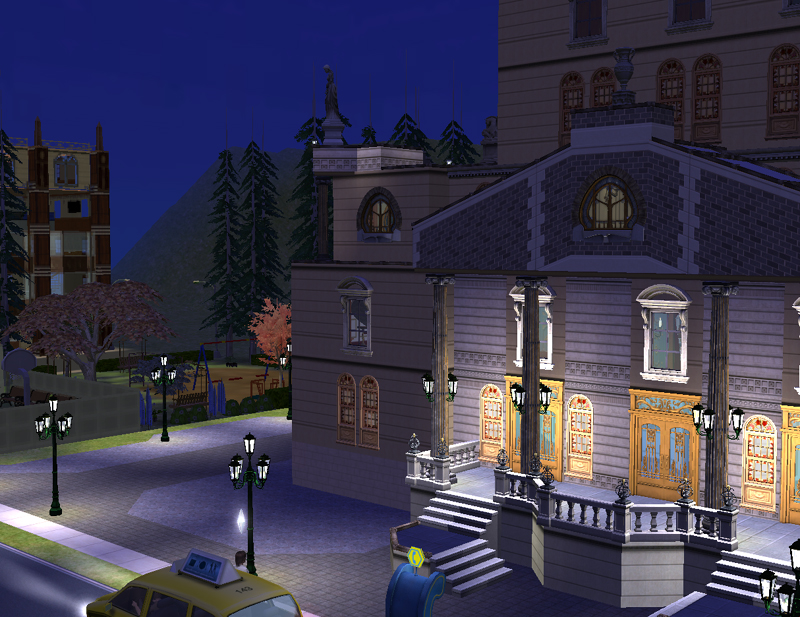 Took himself out to the Opera Populaire. (Lot by Pegasus from MTS2 here.)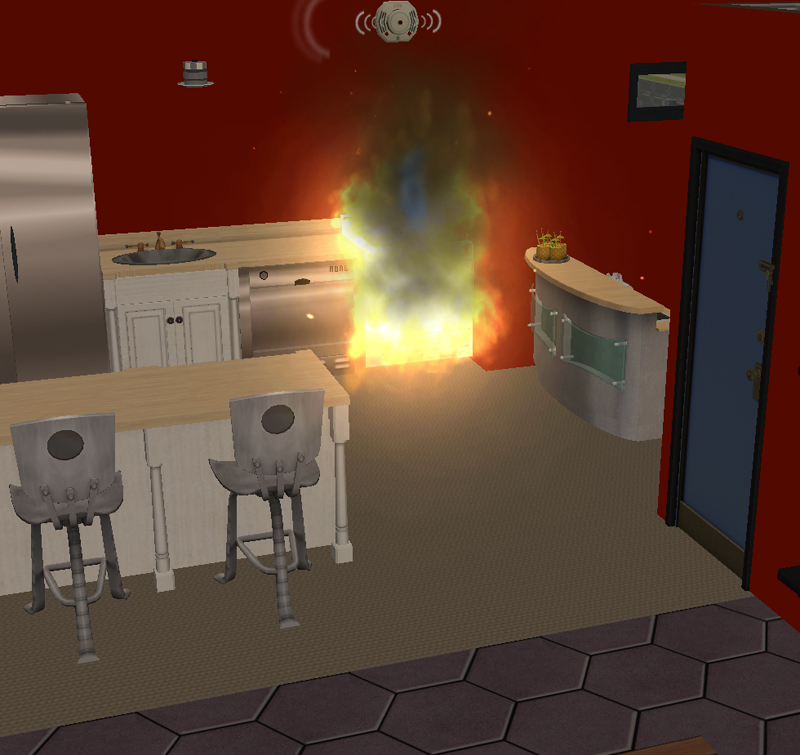 The last straw was a cooking fire at breakfast - when he had to set off to work.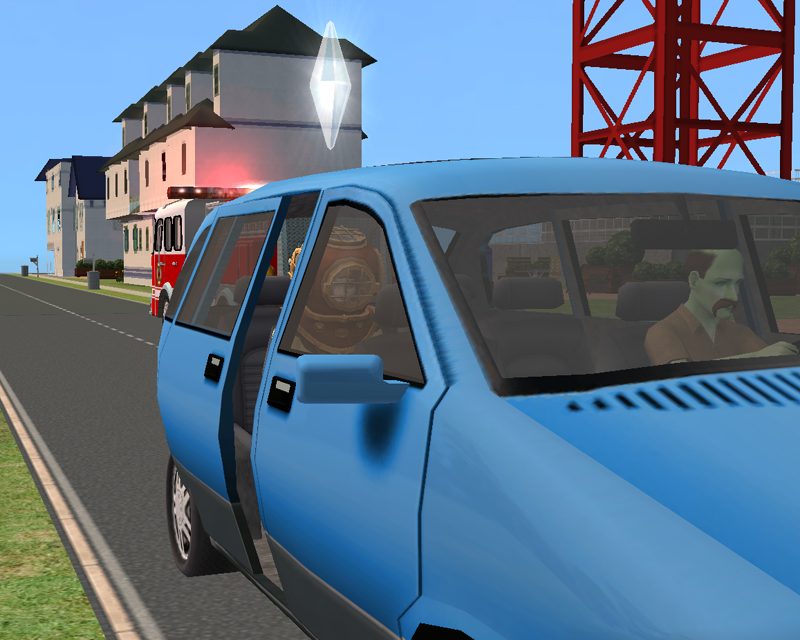 "I know if I get in latae again I'll get the sack. It's the third time this week. I'll just have to hope the landlord and the firemen can deal."
When he got home, much later, he found his kitchen soaked and his scorched breakfast still smoking on the cooker.
Tiddle had significant problems with employment. He thought his brother was fortunate, having discovered early that he wanted to be a rock star. Tiddle never altogether made his mind up, and when he thought he had, he seemed to make a mistake and BANG he was out again. He was reasonably presentable in a suit, and usually managed to get through interviews and into another post though.
Rose Dai, unbelievably, his girlfriend, was delighted to move in with him and they decided to follow in his brother's footsteps and go for a place of their own.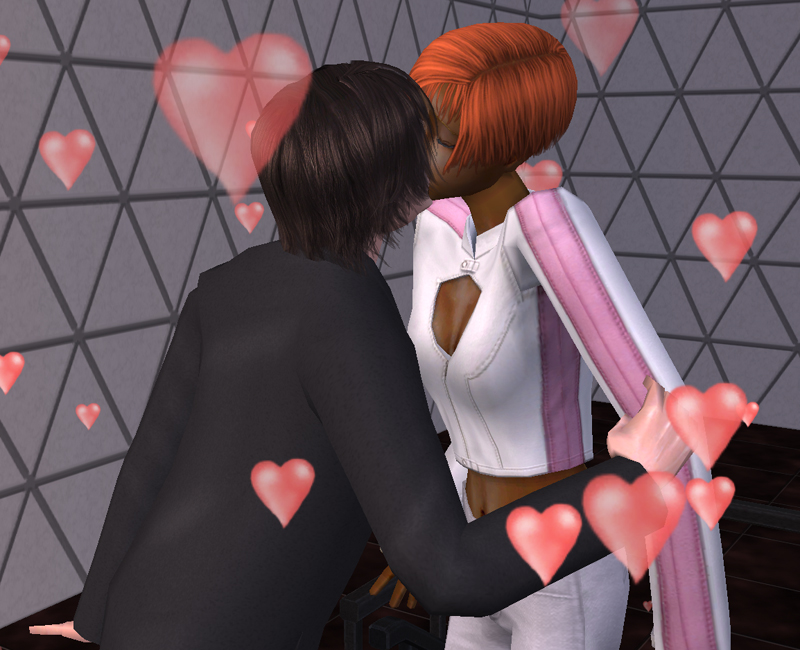 By combining their savings, they managed to buy a small house near the beach, not far from Widdle's.
Tiddle had once again just started in a new career, as a Relic Liberator, so had a decent income.

However, one more bad decision... Anyone would say he had an unlucky trait. Foolish lever pulling indeed.
They called their daughter Riddle!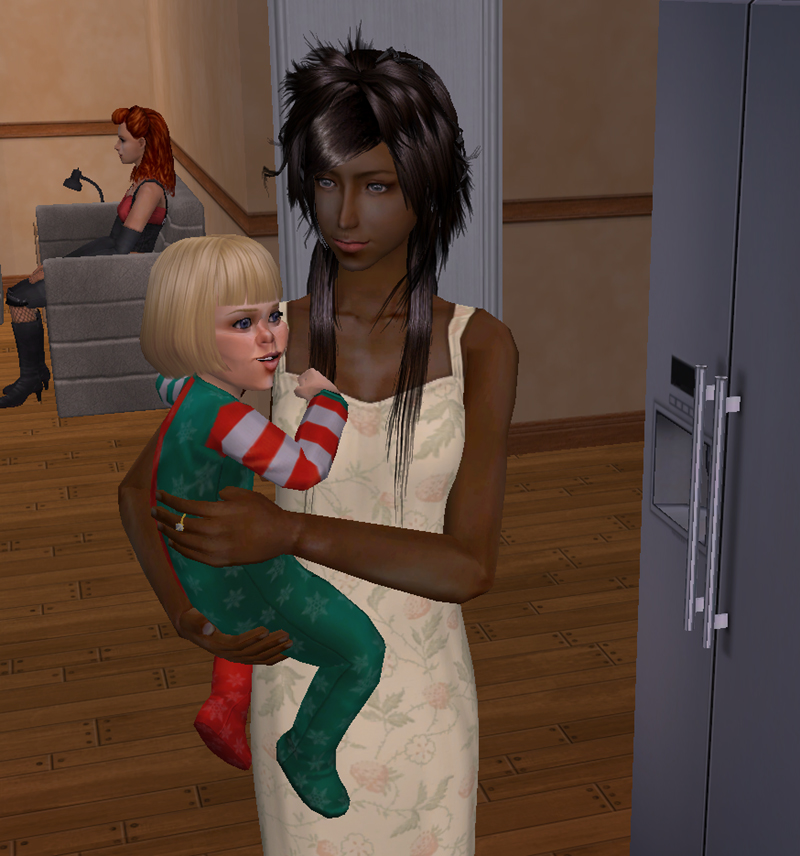 She has something of her grandmother's looks, I think, and none of her mother's.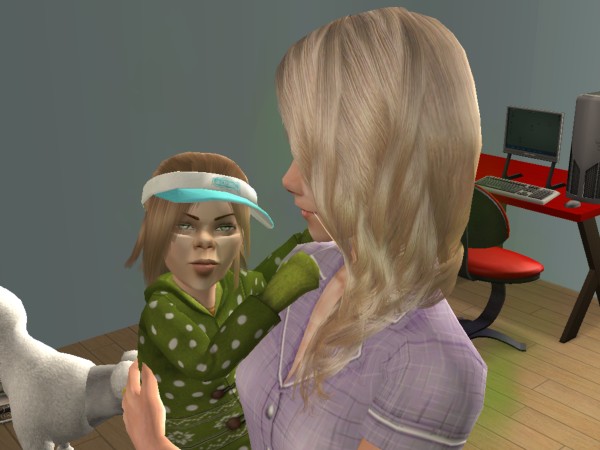 Or perhaps she just takes after her father - here he is as a toddler.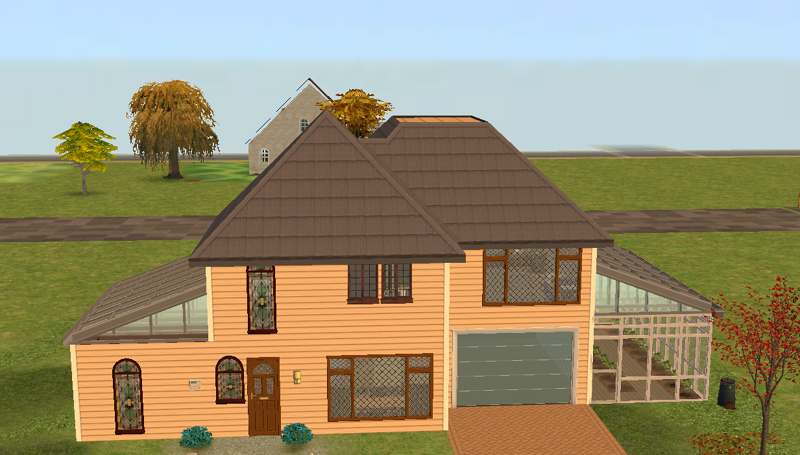 ---
Tara Kat
She had three cats, Mickey, Samantha and Faline the kitten, and a cottage she inherited from her Auntie Ginia.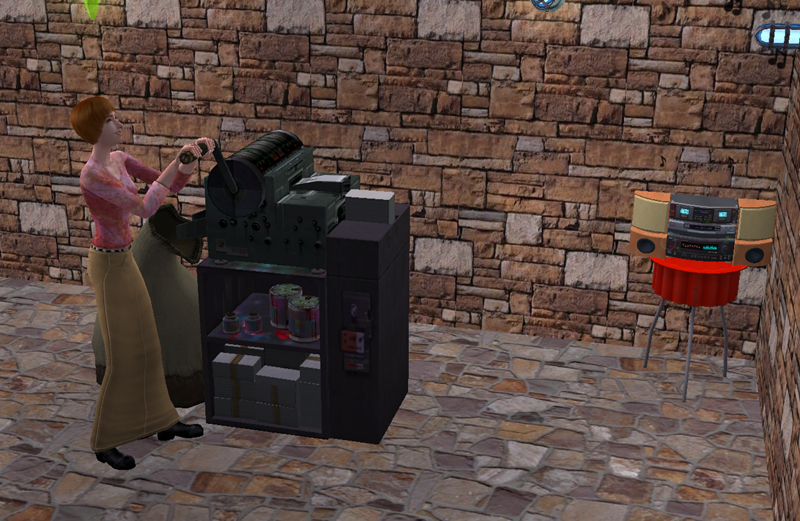 Aunt Ginia had left, among other things, a counterfeiting press.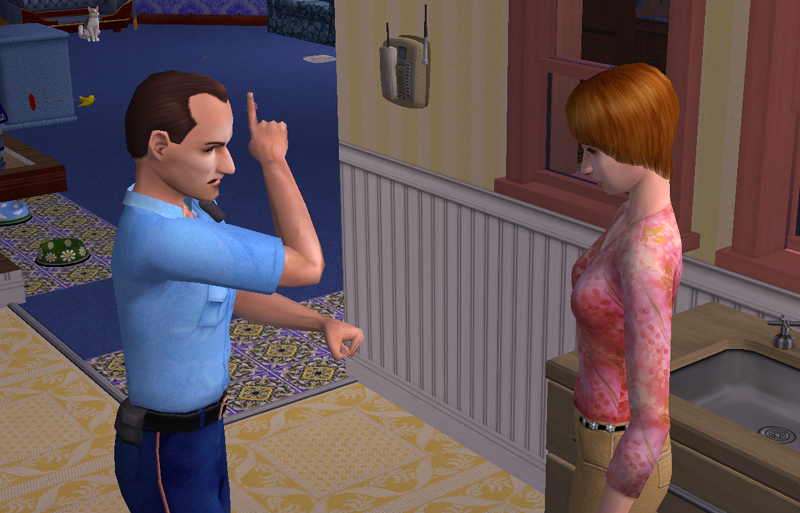 Of course, she was caught and went to jail. The machine was confiscated (nobody believed the counterfeiting press was her Auntie's, and that she had been innocently training her kitten...) and her cats were sent to the pound.
Once she came out, her best friend Priya took her for a makeover, and she had her hair dyed deep red. She did manage to get one of the cats back, Samantha, before the police officer recognised her and refused to bring her any more cats.
Of course, with a criminal record, the only work she could get now was in the Criminal career. And that was fraught with difficulty. All she cared about was not going back to jail, which had been a most unpleasant experience.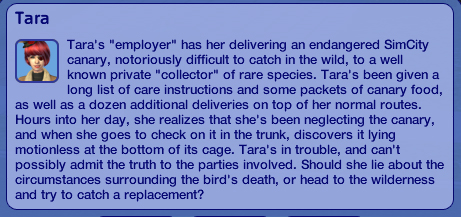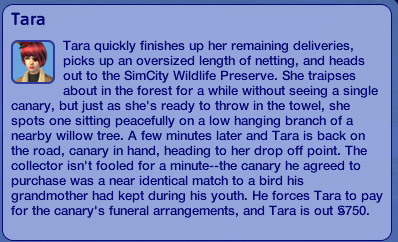 Then she got work as a bookie, and started to look around for a rich guy to marry. She had no intention of "working" any longer than she had to. She wined and dined a few guys.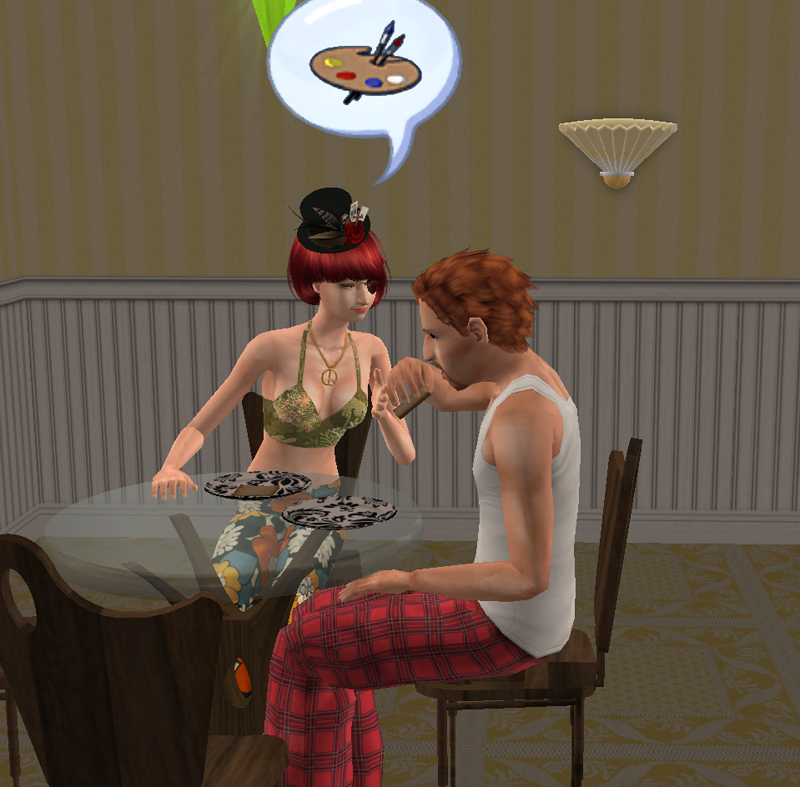 Talin Depiesse, seen above, moved in with her. He had red hair, and he told her he worked as a "Gold farmer", which she misunderstood - he wasn't as wealthy as she had hoped. But by the time she understood that, he was living with her, and she was pregnant. Tara was creative, but not very well educated. Still, he made a little money. So she continued as a bookie, because that was actually quite good fun, until her baby was born.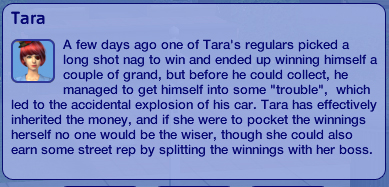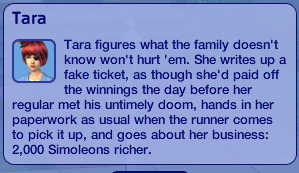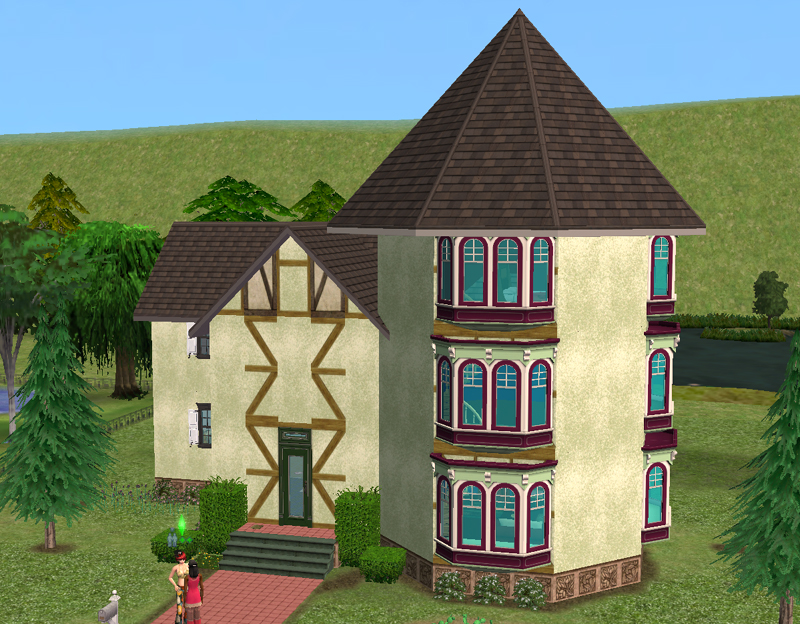 Using Talin's life savings, they did up Aunt Ginia's little house, building upward and also slightly increasing the tower's base. Their bedroom was at the top of the tower, and the house wasn't really completely furnished before their little daughter, Tata, was born.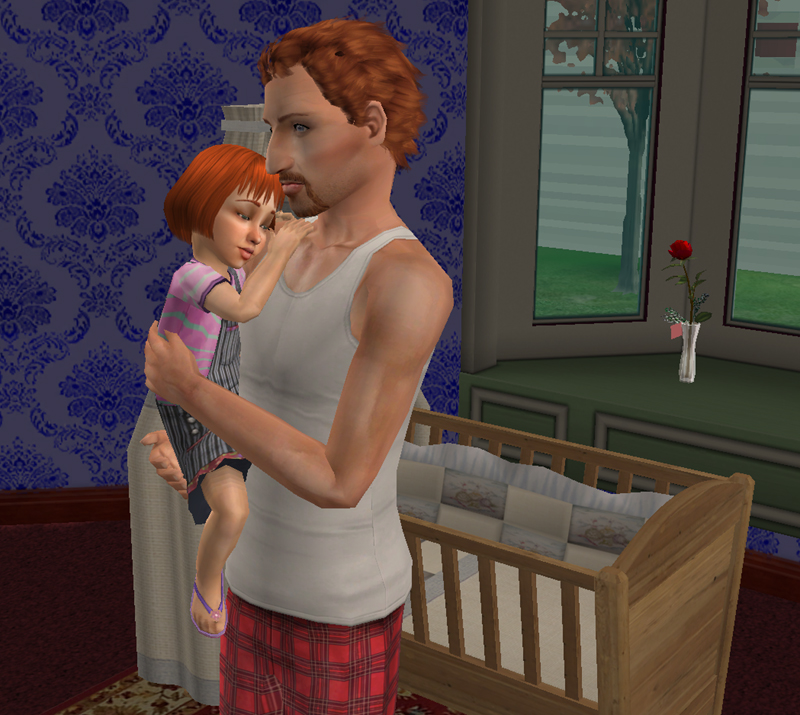 (Tata is named for her parents, of course. Tara and Talin.)
---
Sita May 14, 2014