[ The Library ] [ 150 Main Street ] [ Sims 2 stories ] [ Info ] [ Clothes ] [ Walls ] [ Floors ] [ Neighbourhood Terrains ] [ Mega Hood ] [ Houses ] [ Community ] [ Dormitories ] [ Apartments ] [ Oddness ] [ Single Sims ] [ Families ] [ Archiving ]
[ Pantharapalli City Hall ] [ Holabird House ] [ Witches' Parliament ] [ St Isidore ] [ Otter Spire ] [ Spacemen's Park ] [ Weiss Offices ]
Weiss Offices
Made with all EPs and stuff packs to Free Time and will need Free Time to work in your game. Only EAxis content used.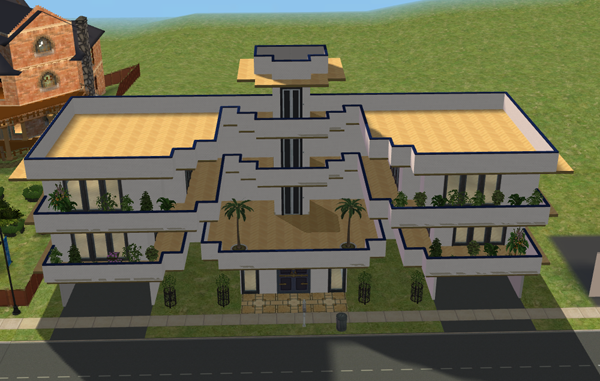 This modern office building is unfurnished, apart from plants. It has two built-in carports, several sheltered balconies for watching the stars or the neighbours. All floors are reached by lift, including the roof-space which may be suitable for Director's parties.
It could be used for any kind of business, from health spa to shop.
There are four main rooms and an entrance hall, which could be subdivided as required.
Cost: §51,677
Also available as a Home Lot (or Home Business) here.
---