[ The Library ] [ 150 Main Street ] [ Sims 2 stories ] [ Info ] [ Clothes ] [ Walls ] [ Floors ] [ Neighbourhood Terrains ] [ Mega Hood ] [ Houses ] [ Community ] [ Dormitories ] [ Apartments ] [ Oddness ] [ Single Sims ] [ Families ] [ Archiving ]
[ Holabird House ] [ Pantharapalli City Hall ] [ St Isidore ] [ Otter Spire ] [ Spacemen's Park ] [ Weiss Offices ]
Holabird House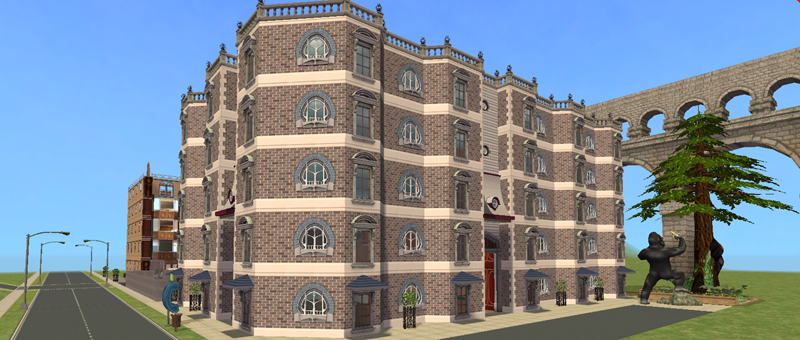 Stylish Victorian offices available for enterprising Sims business. Victorian in style but completely renovated, unfurnished and ready for your refit. Lifts and staircases all replaced. Guaranteed not to have any resident ghosts!
It would easily make into a department store or function equally well for office space. Separate main entrances on side road and the main road add to the convenience of the layout here.
It has a rather grand stair complex up as far as the second floor.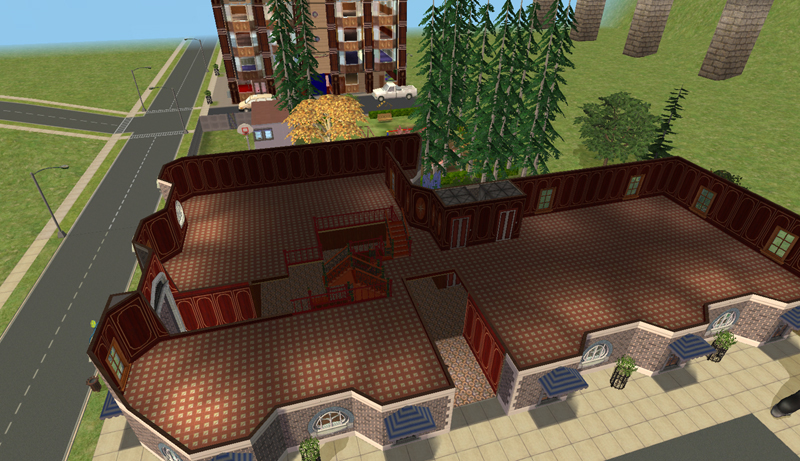 There are also 2 lifts to take clients effortlessly to the very top - yes, even the roof space is available.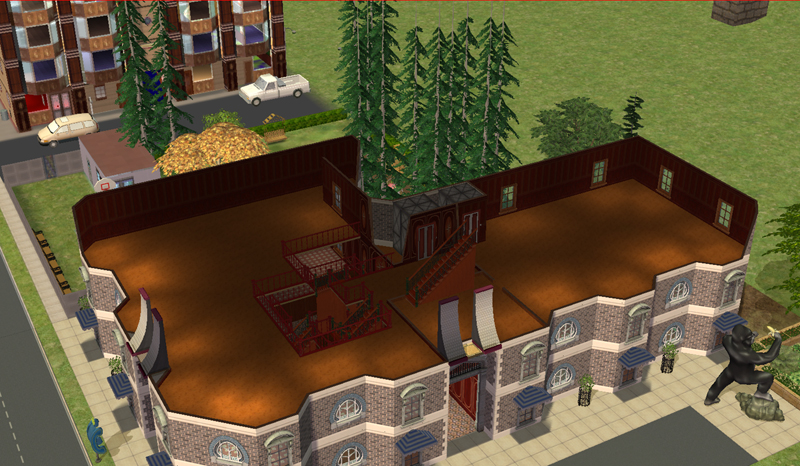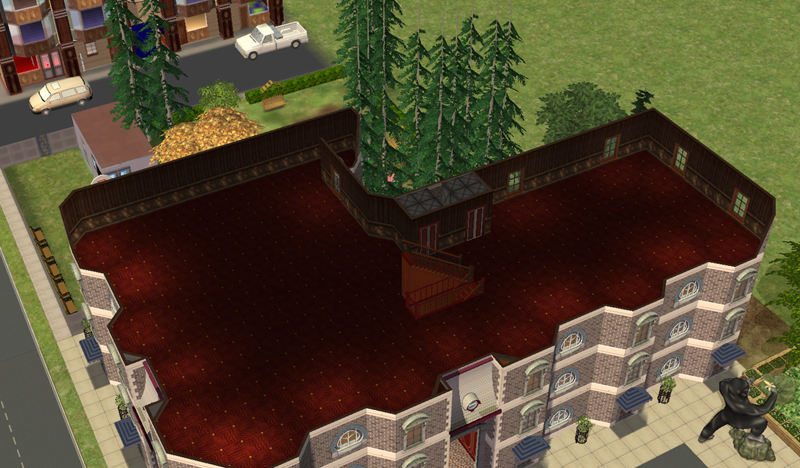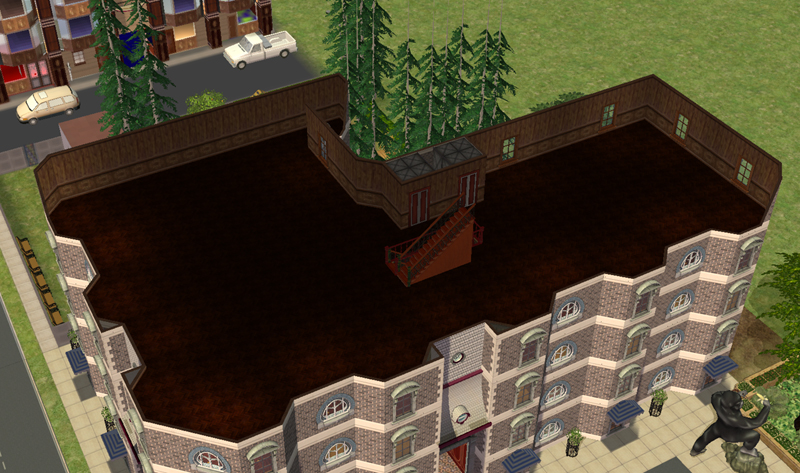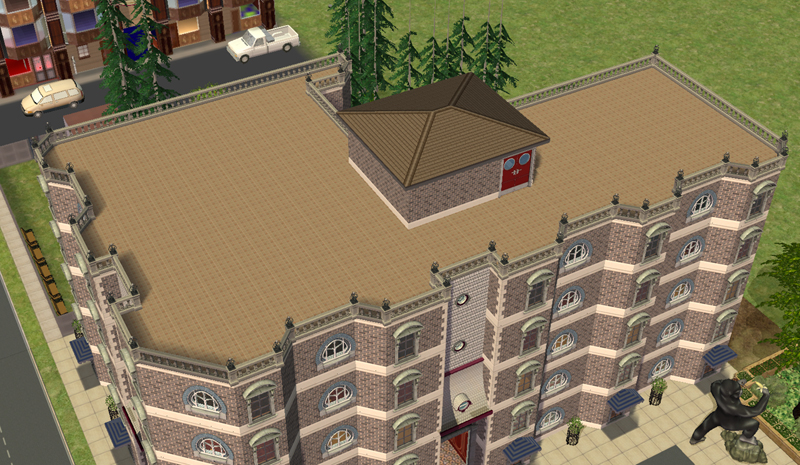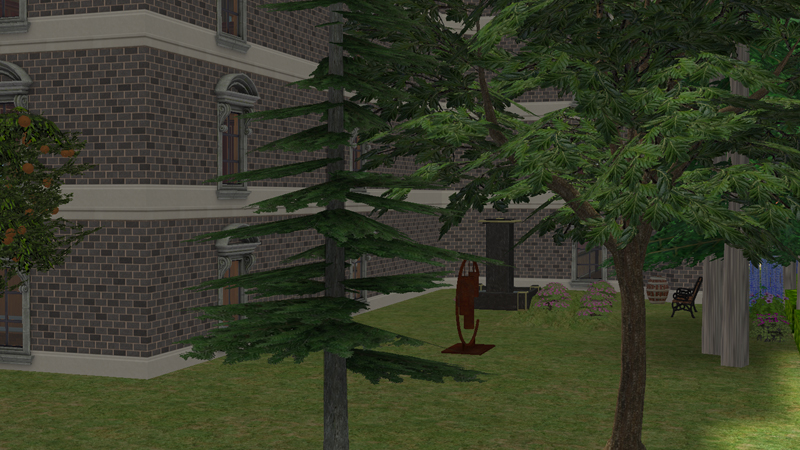 This would convert, if required, to a roof garden, but there is a pleasant and fairly private garden space at ground level, at the rear of the building.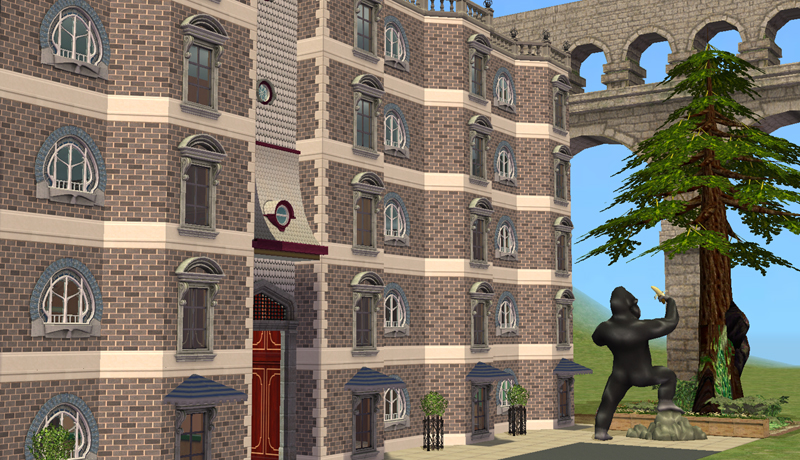 There is a historic Giant Redwood tree (CC from Artistic Habitats) close to the building, even older than Holabird House itself. There is a modern sculpture close to the tree. Parking could be available on the minor road outside Holabird House.
There are two main entrances on the ground floor, which is already subdivided to give up to 7 pleasant office spaces. The upper floors are not divided, apart from the second floor, which has been partly closed off to make one larger office space with its own private staircase.
The first and second floor plans shows clearly the traditional and lavish layout of the stairways.
Upper floors are not yet subdivided; they would make for example a good concert hall, community college, or even a large workshop. Or a hotel with community-enabled furniture. It could be made into apartments but for this you would need a downloadable trashcan and residential mailbox; or it would make a fine University building.
You could also just leave it as a piece of community decor.
There is a small amount of custom content included with this house (the tree, walls and floors); it is all from Artistic Habitats and now freely available on the Internet. If you don't want the custom content please use Sims2Pack Installer and only tick the Lot itself.
Made with ALL EPs and Stuff Packs. You would need to have Open for Business to make this work as designed; have a Sim buy the Lot and build a business here.
Download Holabird House
---
Sita March 3, 2016