Amazingly enough, I do have other interests. Besides Sims, there are a few other bits and pieces on this site:
[ SimCity (2013) ] [ Sim City 4 ] [ Discussion Links ] [ Comics or Comix ] [ Photos ] [ Textures ] [ Occasional Blog ]
I also have a Tumblr, mostly about Sims and its offspring
4 March
Currently playing Sims 2, and loving it.
I updated the Religious Artefacts Theme page today as I needed some stuffeths for my churches. I discovered the wonderful Affinity Sims forum was FULL of goodies! and would recommend it to anyone who wants churches or Christianity in their Sims game.

Some time later in the Uberhood continues the occasional stories from the large Sims 2 world I have.
28 February

Contempo Towers a large house in modern brutalist style.
22 February

More from Whistestop and Seas, Bees and Adventures
12 February

Whistlestop and Valentine's Day Snape
.....................................2014.....................................
21 December
The Lights family have moved to Aurora Snows. Follow them here: Lights in Aurora and continuing.
14 December
3 December
And another story from the Uberhood: The Sad Sad Tale of Jessica Peterson

30 November
An update from my Uberhood: Belladonna Cove

26 November
I've archived some of Martaxl's creations and meshes for

23 November
A small addition to the

Information page about Death.
14 November
A new story

11 November
31 October
20 October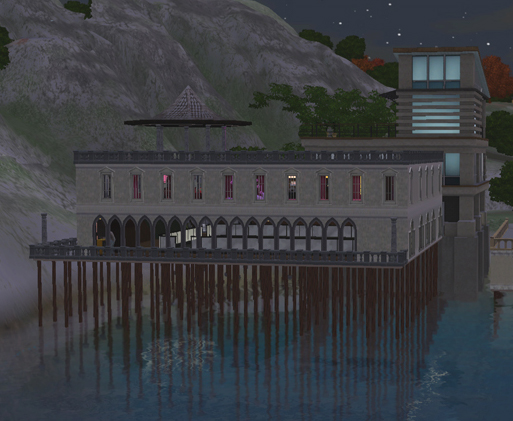 New Venice Skate 'n' Bowl for

Island Paradiso
15 October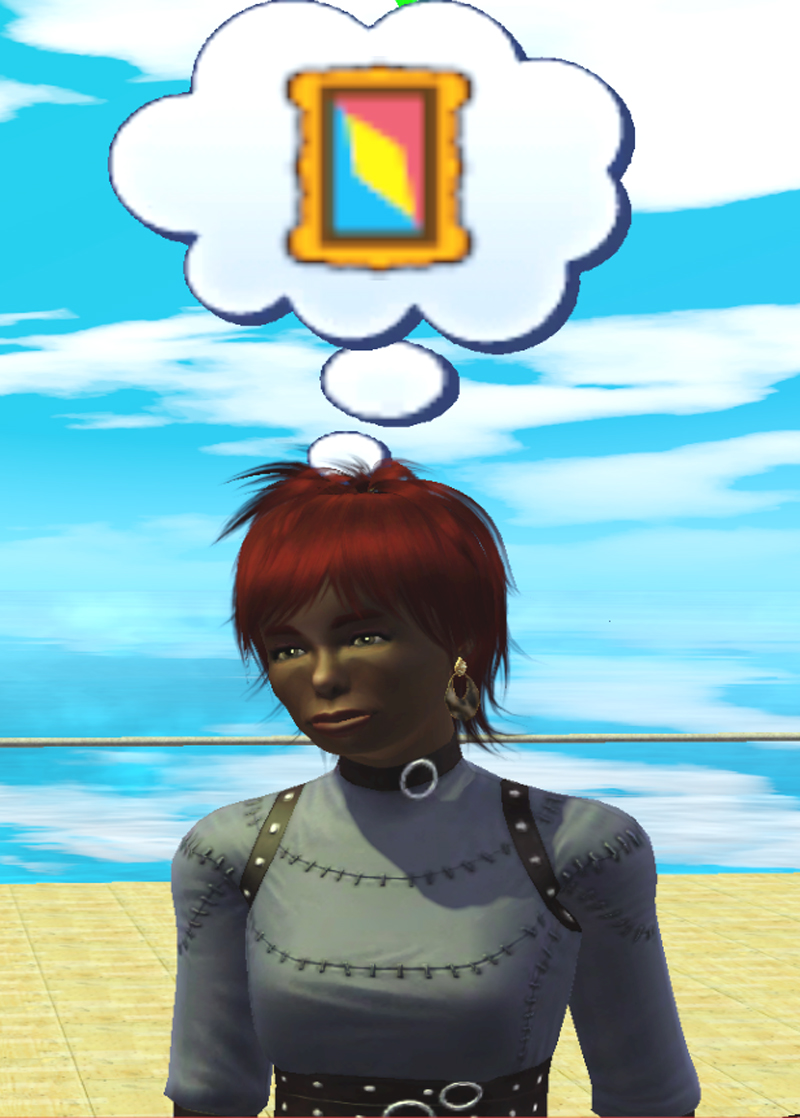 Mawu Buluku for

11 October
A couple of new guys, the Hamster brothers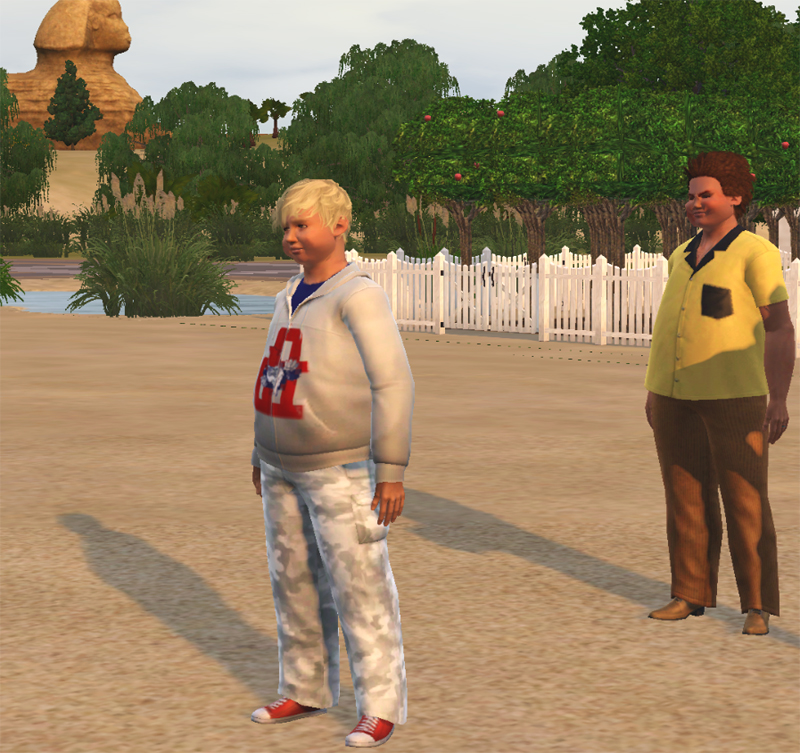 for

9 October

Coastal Living
30 September
Another story, More Kewians in IP
28 September
A new story, Pescado in Newport.
17 September

having finally discovered how to merge package files, thanks to Martine's wonderfully straightforward tutorial I've been collecting more wonderful downloads! See the Themed Links pages.
1 September
The Kewians moved to Isla Paradiso
BREAKING NEWS
Hunter Cottoneye survived the apocalypse! Sadly, his fiancée was lost with her family. Much later, he found his way to Isla Paradiso on a houseboat and found happiness! Read more.
25 August
A very special day.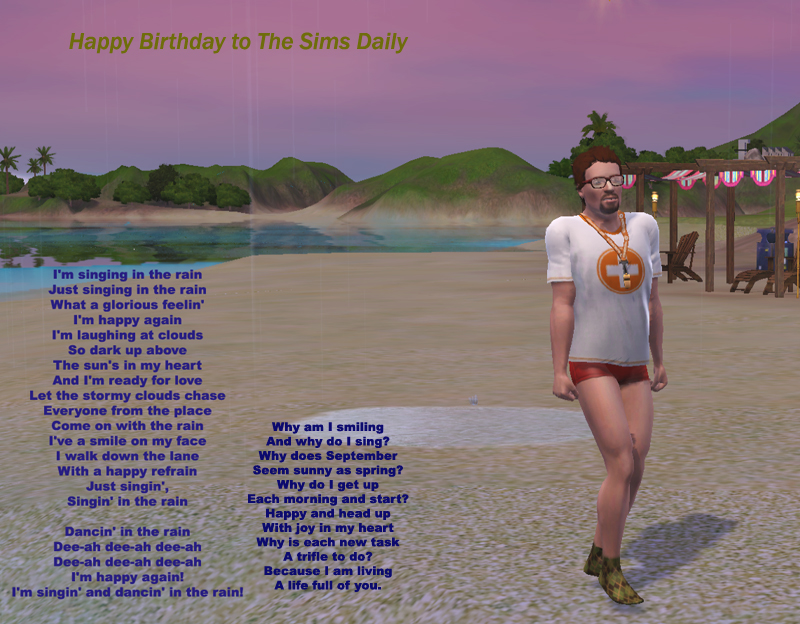 23 August
I haven't done much Simming lately, though I DID finally install Island Paradise, and amazingly, it seems to work! Touch wood. Here's a fun thing, a Sims 2-style personality test. Seems pretty accurate to me. Link below the table to try it out for yourself.
Sita's Sim Personality
Score (0-10)

Personality Dimension

4

Neat (vs. Sloppy)
Neat, tidy Sims typically enjoy cleaning up the house or grooming themselves in front of a mirror. There's always something to be done around the house and they'll more often than not be found doing it; great for a house, but it can tire Sims out.

With their constant disregard of cleanliness and hygiene, sloppy Sims are content to simply "be." They tend to enjoy just about anything that doesn't require planning or cleaning up on their part.

4

Outgoing (vs. Shy)
Outgoing Sims are likely to jump headfirst into any situation. Charm and confidence are their best traits and when they're in a friendly mood they enjoy group activities most of all. Keep an eye on these characters, though; outgoing Sims can be too brash, and others aren't always so impressed.

Introspective and quiet, shy Sims often think about the world around them and write in their diaries rather than actually interact with anyone. It may be harder to break out of their shells, but if shy Sims take the time to get to know others they'll be delighted by the social world awaiting them.

2

Active (vs. Lazy)
Active Sims are almost always on the move but need a lot of food and sleep to keep up their hectic pace. They're apt to be happiest while breaking a sweat, an exhausting idea to most other Sims. An active Sim will usually get more enjoyment from watching sports on TV than reading a book.

Lazy Sims have been known to veg out on the couch for hours on end, so naturally, they don't need much sleep to sustain their constant lazying. They still enjoy socializing wiht other Sims and can be persuaded to get out of the house once in a while.

7

Playful (vs. Serious)
Playful Sims are more likely to find entertainment and fun in the world around them; they tend to be more curious than any other Sim. They may have a lighthearted nature, but they can wear themselves out with their antics, as well as get on their fellow Sim's nerves.

Serious, quiet, thoughtful Sims are more inclined to enjoy logic puzzles and good conversation, but they don't respond too well to chaos or silly behavior. Repairing broken items or working on an important project can keep serious Sims content.

4

Nice (vs. Grouchy)
Encouraging and generous, nice Sims tend to be easy to get along with and very positive. They'll listen to what other Sims have to say whether it's interesting or not and clean up after dirty roommates. If they don't watch out though, other Sims may take advantage of their good nature.

Grouchy Sims, despite their sour mood, can still be social creatures. They'll probably enjoy teasing a Sim as much as telling a joke. They don't seem to mind when other Sims overreact and they like playing a game as much as anyone else, but be warned: they tend to be sore losers.
Find out your Sim personality at PersonalityLab.org!
1 August
25 July
A new world, a new chapter.
23 July
After some fairly hefty problems with my game, I'm back.

Lance Armstrong, a new Sim, modelled on a certain naughty cyclist.
28 June
21 June

I've updated my Sims 2 Stories page with a couple of new things from the Uberhood, and fixed links to a couple of things. Here are the links.
31 May

Bolshie Carbonist - long story about the name.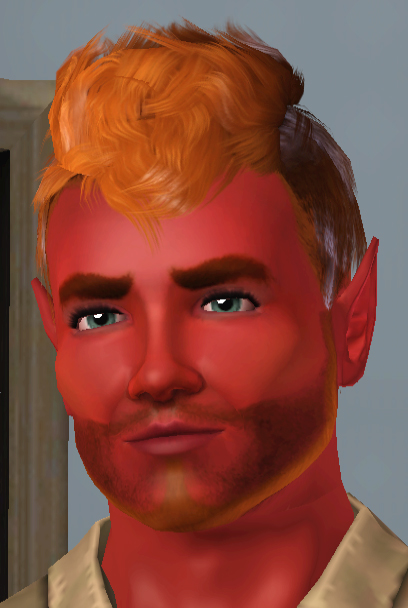 and Rosie Riveter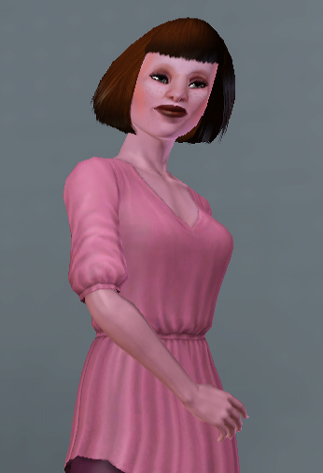 26 May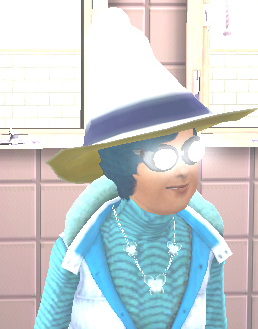 Meet The Mermaid
25 May
Apologies. I have been updating the site and not putting things in here! Quite a few stories.
So here are the updates for May:

BonSanco Police Department - Case notes Trepie McDark
8 May

Chronicles of Arkham continues with Chronicles of Arkham 9: Winter and Chronicles of Arkham 10: Two Weddings and a Baby.

Clothes for the Female Bodybuilder meshes.
4 May

Slim BodyBuilder clothes for Adult Male.
17 April

I made a set of Tiled Walls and a few new Wallpapers.
14 April

I made some Sims 1 Paintings, some Brassy Bathrooms and a Brass Cage.
11 April
I've been in SimCity lately; also playing with Sims 1 a little. Check out this house.
23 March 2013

Wintry street in Jericho.
21 March 2013
Back to Sims 3 with a new Community Lot.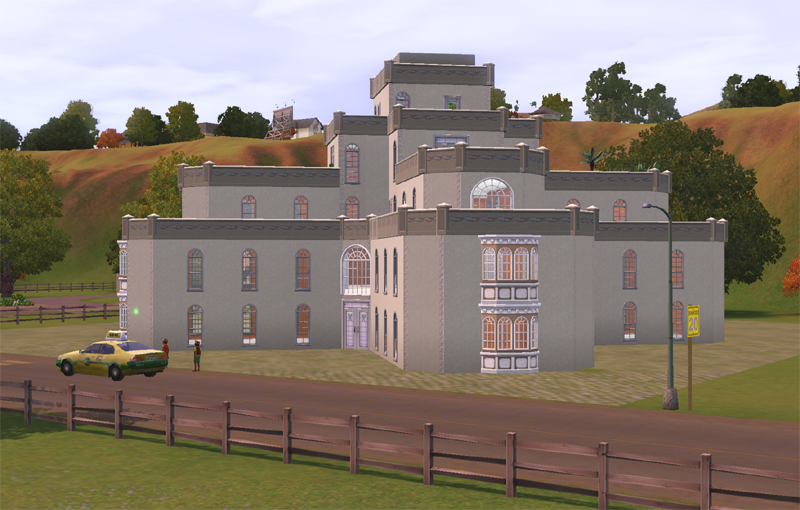 19 March 2013
WOW! THANKS LUCY! How DARE you offer us Sim City 4 Deluxe, a ten year old version of a FAR BETTER game, which most Sim City fans already have, as a sop for breaking Sim City?
17 March 2013
Like many of you, I've been trying to play SimCity, and sometimes succeeding. I made a few notes which you may find helpful.
07 March 2012
More of the Dotcoms. Kimmy 3
16 February
15 February
12 February

Argh! Why did nobody tell me the links were all broken on my Fachwerk walls page? All fixed now.
There may well be broken links elsewhere on the site; I am working on them!
9 February
Where Are We Now? A simple little story from Jericho.
4 February
More of the Dotcom Legacy. See Stories or go directly to Chapter 3.
1 February
Senza parole a short Sims 2 photostory.
26 January
25 January
A new Sims 3 Sim to download: Kim Dotcom. And the beginning of his legacy.
23 January
The Edificium Set for Sims 1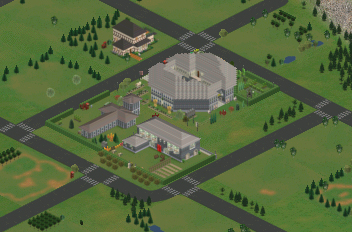 This is a set of three Lots for Sims 1; two are Community and one Residential. Of course you may prefer to use them singly, but they are designed as a set: they were inspired by the wonderful novel by Umberto Eco, which I recently reread, The Name of the Rose. The house is uninhabited; there are some monks' robes available on this site as well, here. The Edificium is really a library but has been modernised a little, with refreshments and a few amusing things to do, and lovely gardens. The Church of St Isidore is in need of some modernisation but functions as a Community Church, happy to cater for weddings. The Dormitory offers comfortable accomodation for an Abbot and five monks. (Or, should you prefer, an Abbess and five nuns!) Click on the image for more.
19 January
After a major computer disaster, some health disasters, and a rotten Christmas, I started playing Sims 1 and 2 again. I made a couple of Sims 1 recolours, might match something, added a Maxis Matching page to the Sims 1 Themes pages, and wrote this Sims 2 story. A New Home.
24 December
I remade my Self-Sim again; because of the Sims 3 SelfSim "meme" that's floating around. So you can have five different versions of me, different ages and with different traits.
---
Last updated August 14, 2012 13:12