[ Stories ] [ Chronicles of Arkham 11 ]
Confessions of a MATY Sim
Starring Jeromy Craig in Crescent Cove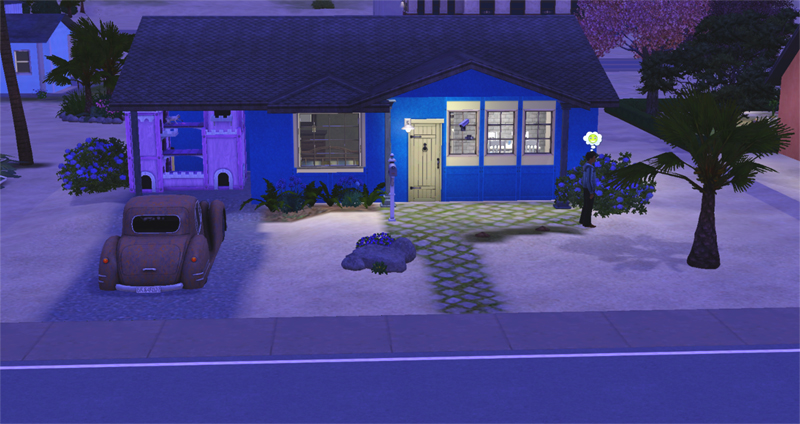 Since his only remaining friend Motoki had moved to Crescent Cove, Jeromy thought he would too. He hadn't much money, and needed to raise some fast. He sold all his furniture, and his little shack, and most importantly the time machine. With additional help from long-suffering Motoki, he was able to get a tiny little house which was already much larger than his old shack, and furnish it adequately. He bought a large Jungle Gym for the cats.
The Cemetery and Crematorium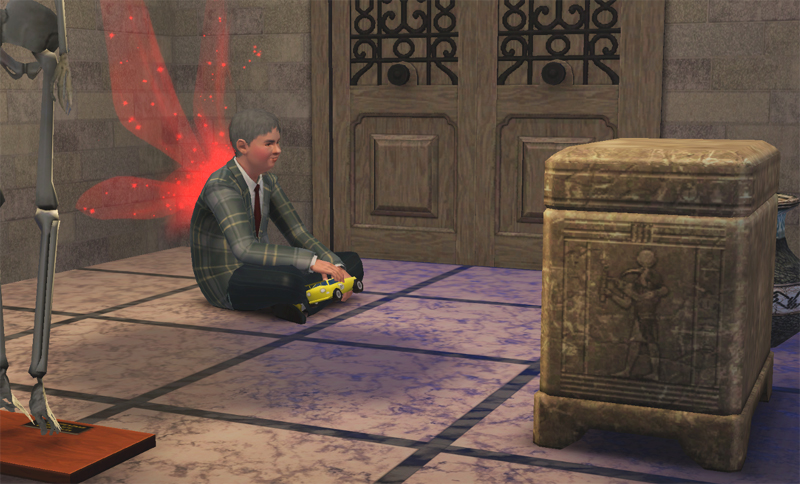 He was studying embalming and taxidermy, for work, in his free time. That's when he was not playing with his yellow car. "It's good to have somewhere away from the cats," he said. Here he is shown hard at work at the Crematorium.
Cremation is advised and encouraged in Crescent Cove. Apart from anything else, the Cemetery is only a meter above sea level and when it floods, things turn nasty.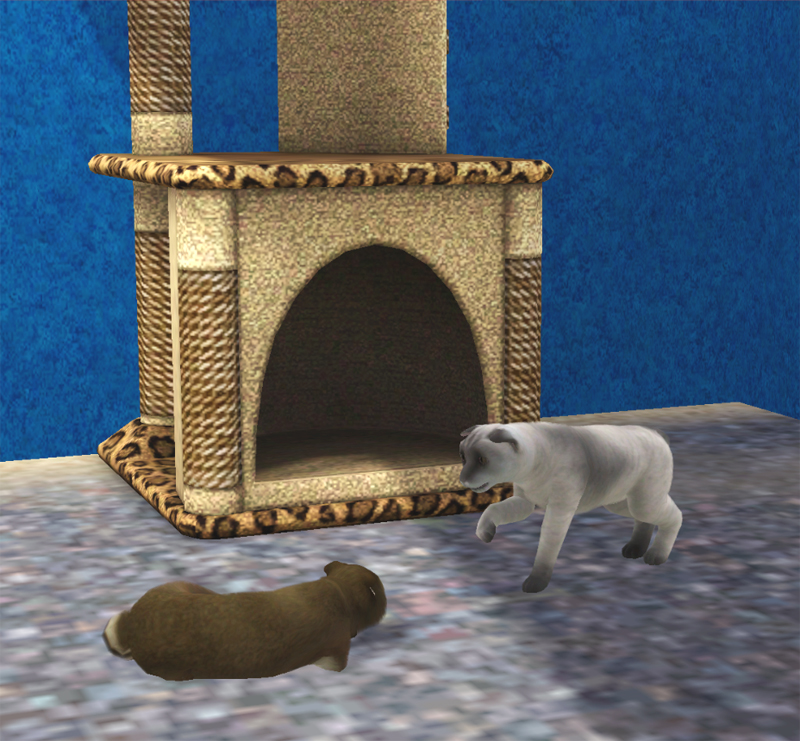 The cats, in turn, turned their noses up at the jungle Gym. So he bought them a Cat Condo instead. They did like that.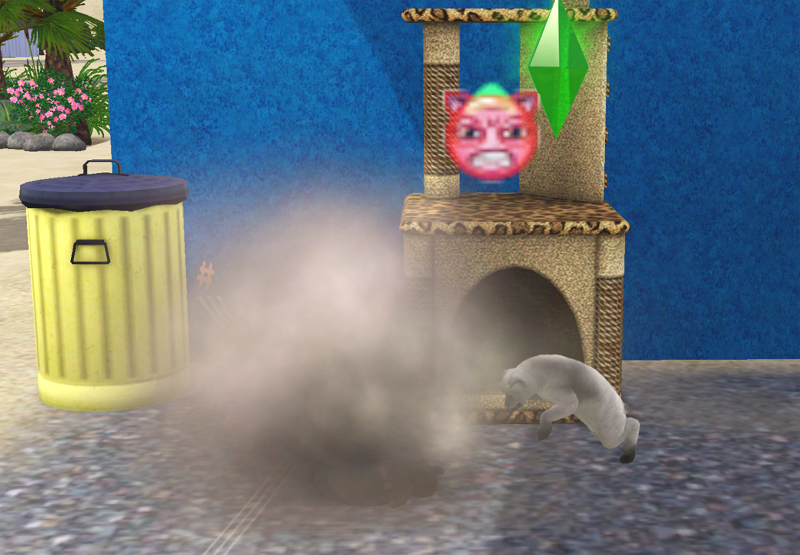 They even defended it from the local raccoon.
As the year drew on, Jeromy decided to throw a Hallowe'en Party. You can see more of the Crematorium there.
Once he had finished his Embalming studies, he started to write a new book called Confessions of a MATY Sim. Of course this was a humourous book. He had never studied writing but of course he knew all about it.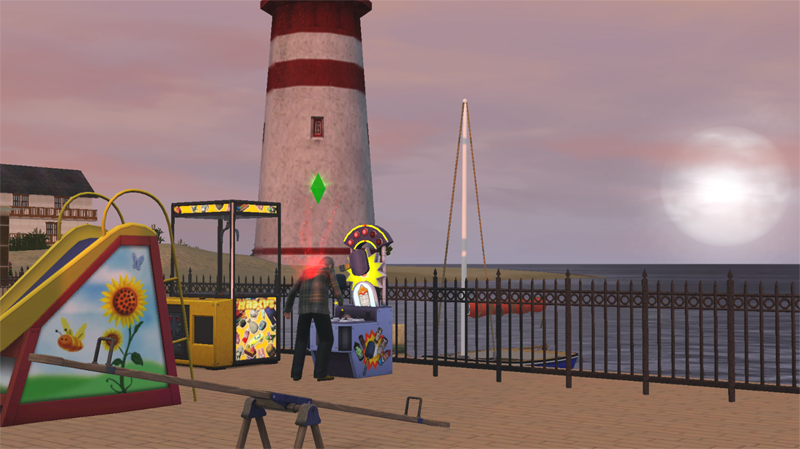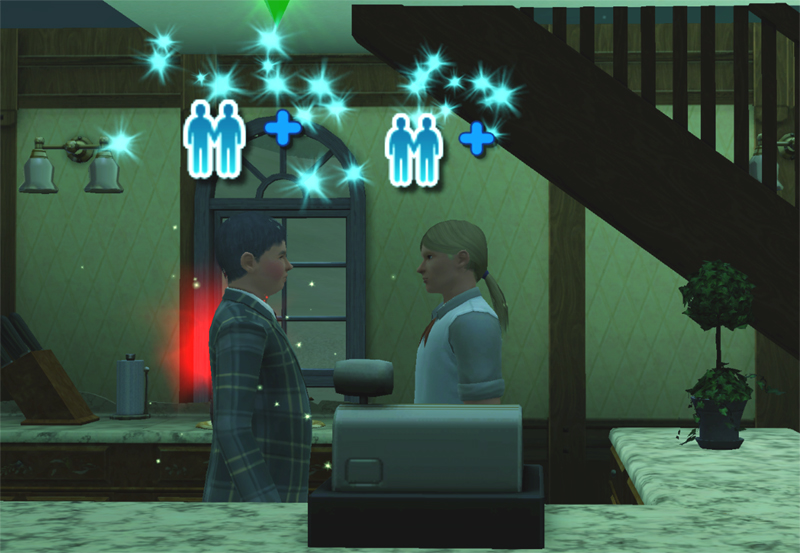 He got a lodger, Jabari Noel, a singer he picked up at a SimFest. Jabari was friendly but rejected Jezzer's advances.
The cats had kittens - Ahab, Jade, Cressida, and Lilith.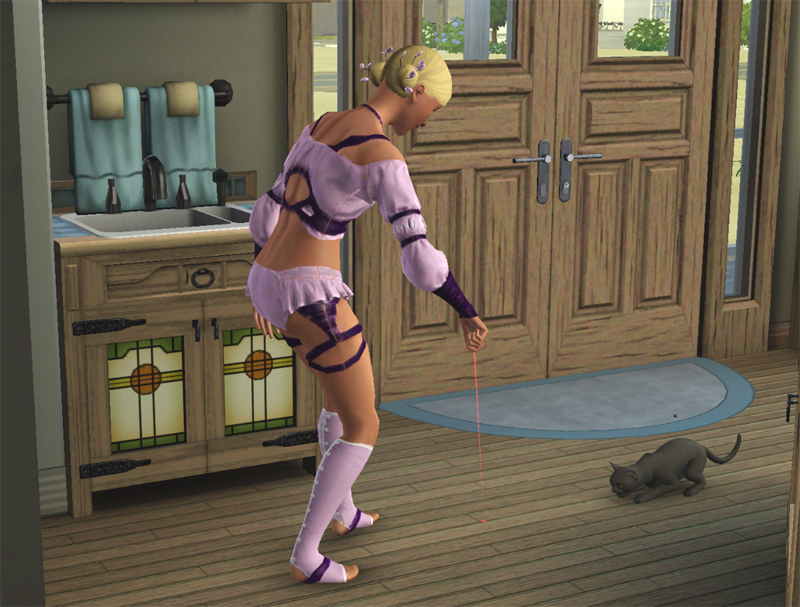 Mushi Craig, Jezzer's tom cat, adopted the family next door, Deborah and Zane Mistry, and eventually persuaded them to adopt him. "Jezzer never feeds me, you know. And there are all those kittens there, who are of course NOTHING to do with me! It's really noisy. Jezzer says if I make any more kittens he'll take me to the knacker's. Please can I stay? Please please?"
Jade Craig went to live with Paulina and Diego Pleskot.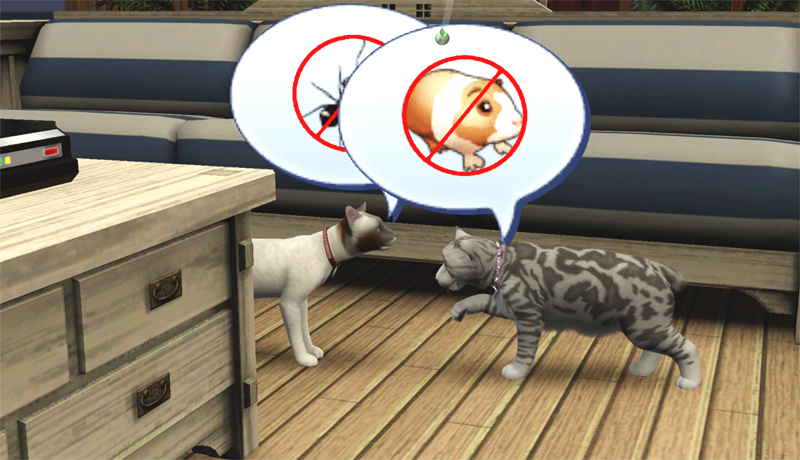 Ahab went to live with the Buntocks family and their cat Sondra. When Sondra met Ahab they talked about things they disliked. Ahab said spiders and Sondra said hamsters. Sondra was soon convinced they had a lot in common.
Cressida Craig, the youngest and least fierce of the litter, went to live with Nadia Porter.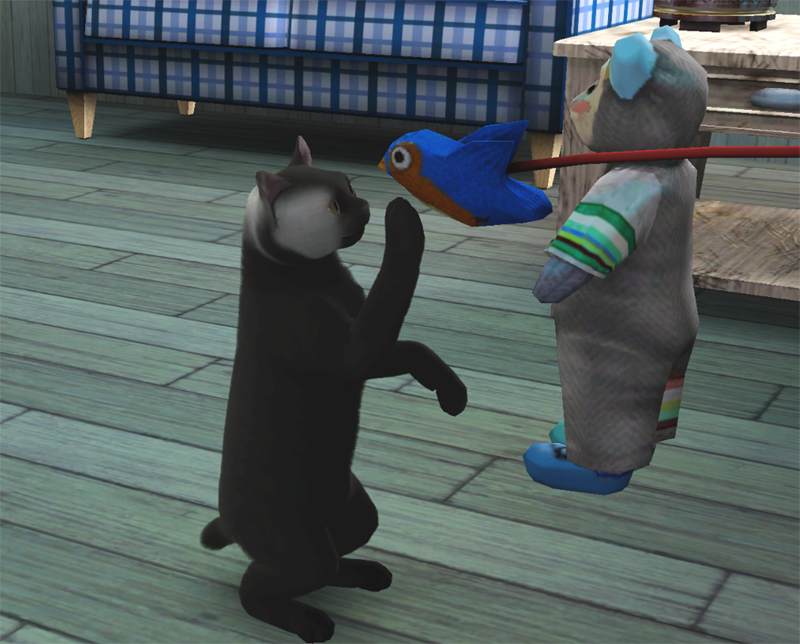 Lilith, the remaining kitten, was pleased to have the toys all to herself - well, and her mother.
Jezzer's new lodger was called Brooks Pham. Jeromy was hopeful.
---
Jezzer's adventures Continue
---
Notes and Credits
This small island world was made by Ellatrue and is obtainable from MATY. I added spawners and newer Community Lots.
She says "This should be the final version of my new world, Crescent Cove. It's a small barrier island neighborhood backed by huge sand dunes, complete with houses and rabbitholes. I've done what I could to give the dunes a very natural feel with the succession of the ecology, and I hope you'll agree the effect is very pretty. Special lots by me include the lighthouse keeper's home, the Church of the Golden Gnome, Crescent Cove Historical Society (based on the one I did for Hatchet Falls), Motel Sleezopolis, Whalemart, and Crescent Cove Community Day (a library for children/toddlers)." Feb 6 2010
I've taken out the Wee Barnoid cottages and started to replace them; some lots are downloaded and some are mine.
I built the Cemetery right next to a little church I downloaded, which is perfect for a small island chapel! (I can't remember who made it at the moment). For CC credits for the Cemetery see this Themed Downloads Links page.