[ Challenges ] [ Sims 3 Stories ] [ Hunter Cottoneye ]
More Hunter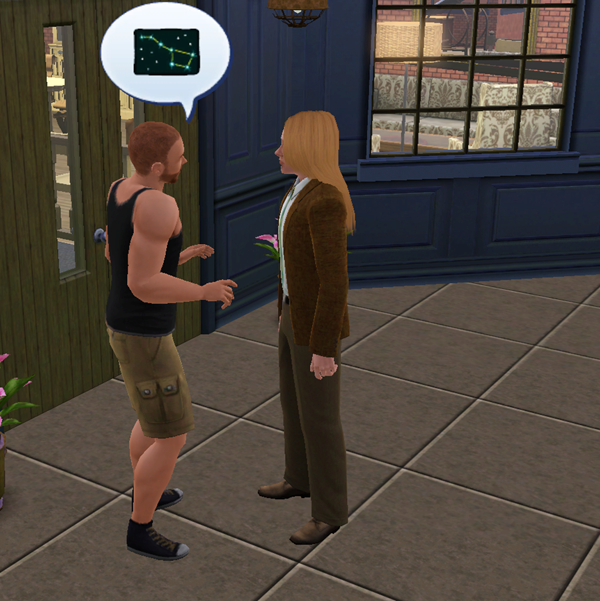 Chatting with a fellow astronomer called Larry. "Do you really think they come from Alkaid? That is very strange - do you know the old legend about those stars? There are really nine stars there, Sometimes there are said to be nine stars but 2 have faded. If you can see the 2 unseen stars, you will lead a long life. I can't see them, but I'm still working on it."*
The very next day, Hunter woke up with a clear realisation. he wasn't getting any younger. For his plan of survival to work, he would have to look for a mate. Ideally compatible, optionally nice looking. He started to think about the town gossip. Who did he know who was single and might be available?
He crashed Marisol Lobos' party, where he hid in the bathroom until he realised that he would not meet anyone that way - then of course Meadow Carpenter-Rhodes came in.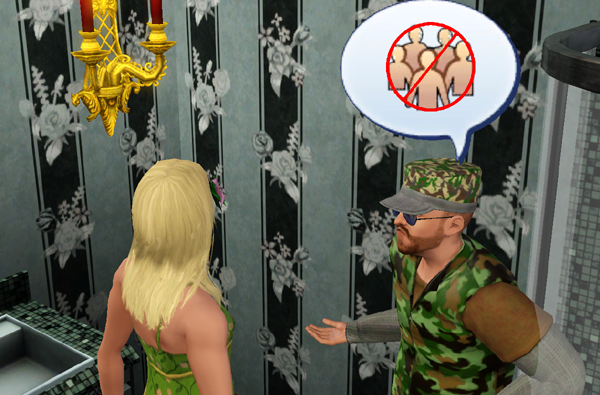 Meadow did understand what he meant, the bathroom was probably the safest place to be
.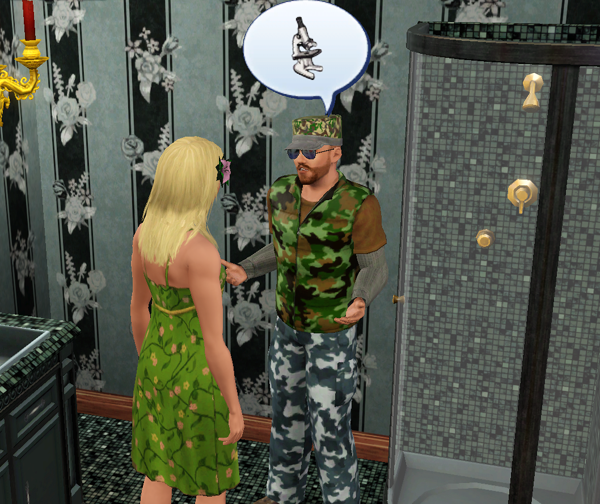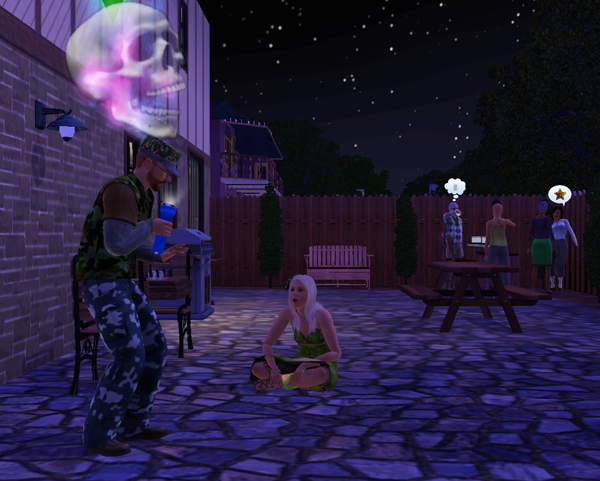 He also told ghost stories to himself. Meadow came over to listen eventually. The rest of the guests ignored him.
"Hmm. There was no food at that party."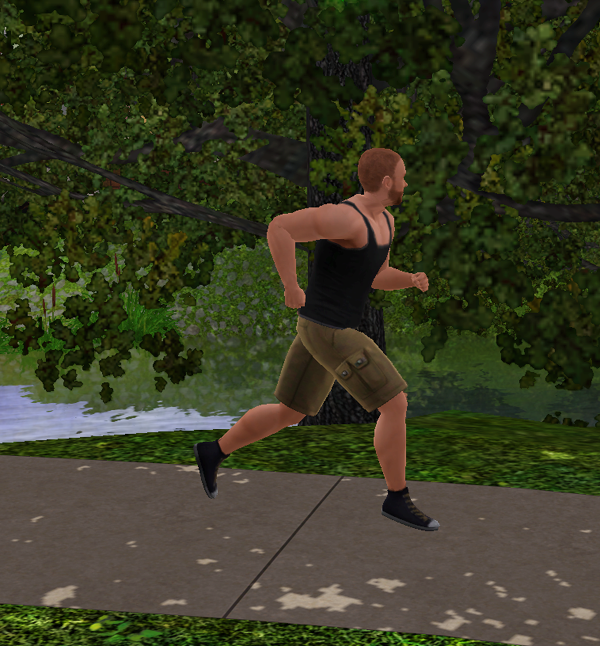 Jogging was a great time for being alone and thinking. He wondered about calling some ladies for dates. Meadow, who he had met last night, might be willing, and she was certainly attractive. Ruby might also be worth a phone call.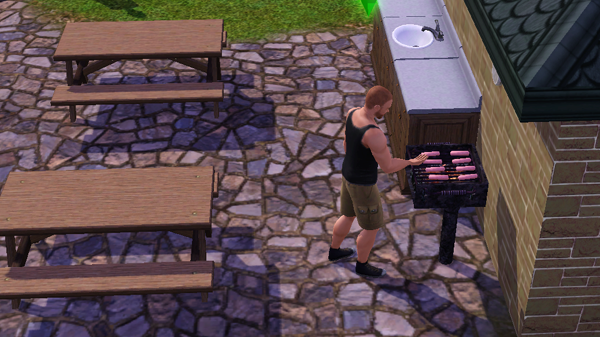 Night fishing at the Gardiner Fish Hatchery was next.
Hungry the next day, he went to the Neighbourhood Grill-a-thon, then to sell his fish at the Consignment Store, as he had heard they paid more for fish than at the supermarket.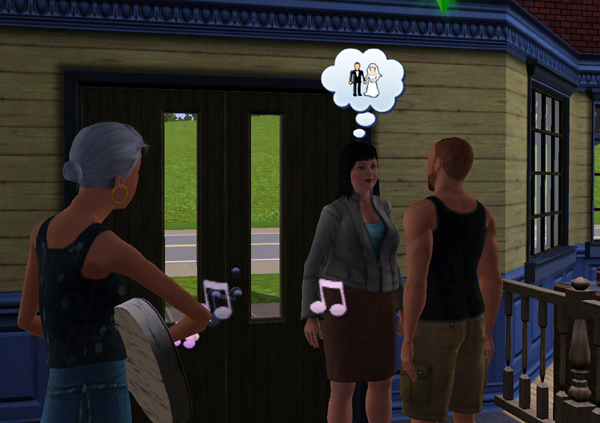 He met Monica Drake at the Consignment Store, where he went every day to sell his fish. She said she was single, she was younger than him, and they got on remarkably well. She completely ignored his madness and told him she was not employed at the moment, but he guessed she probably knew how to cook and might be able to be trained in survival skills. best of all, she was interested in HIM!
He asked her out for a date, and to his surprise (and mine), she immediately accepted.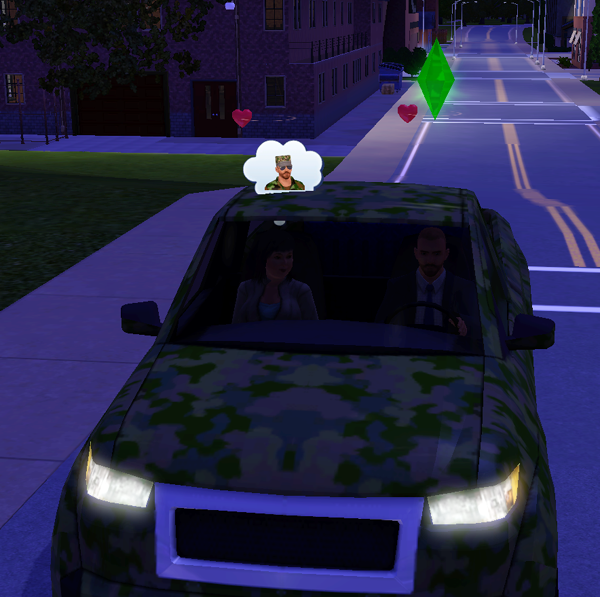 He took her to Hogan's Deep-Fried Diner, since she seemed to expect to eat out. Being very careful not to talk about any conspiracy theories... "First hook your catch, then start to reel her in" he told himself.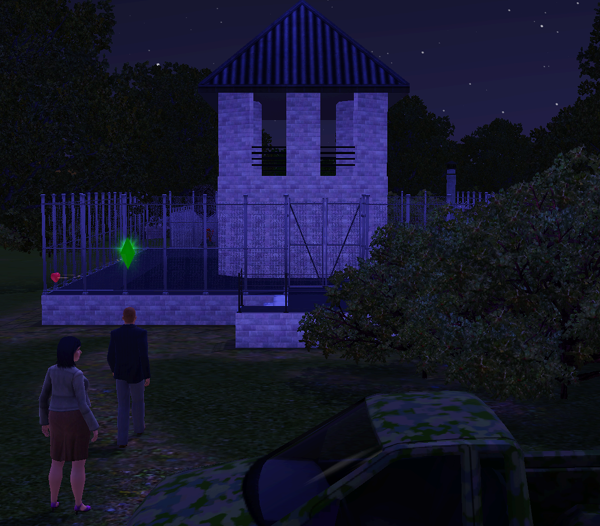 She was not fazed by his bunker at all. "It's - not very big?"
"Bigger on the inside."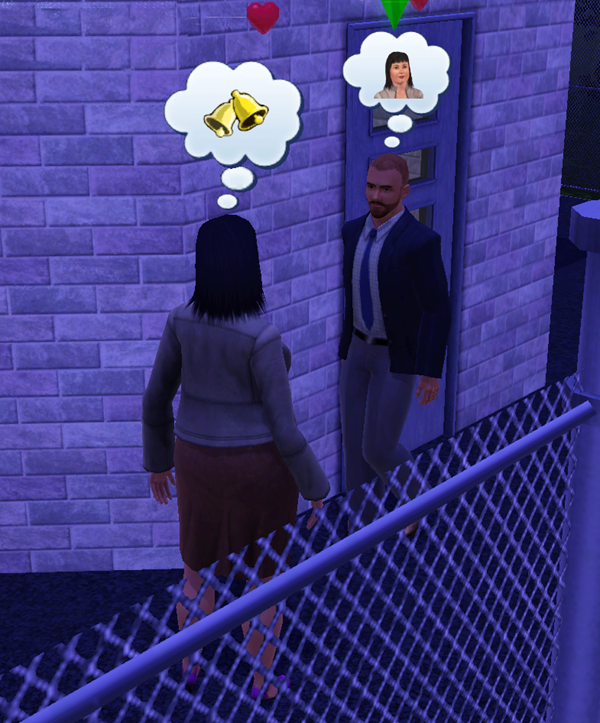 Monica, it turned out, was thinking along much the same lines as Hunter. Being a homeless Sim, she really wanted to get married.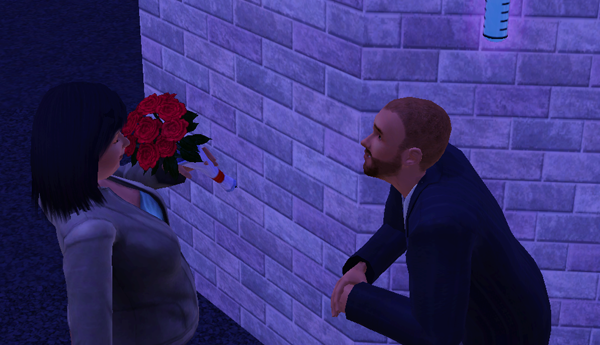 She was actually very easy to reel in. Yes, she would stay overnight. Yes, she would starwatch with him.
He explained that he preferred to starwatch from inside the compound, so as to be able to get inside quickly if he saw any incoming missiles.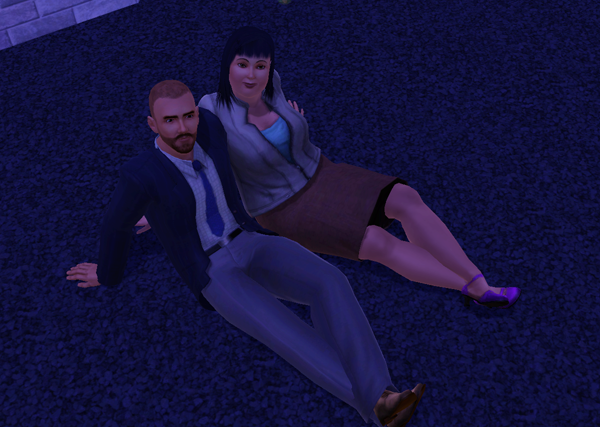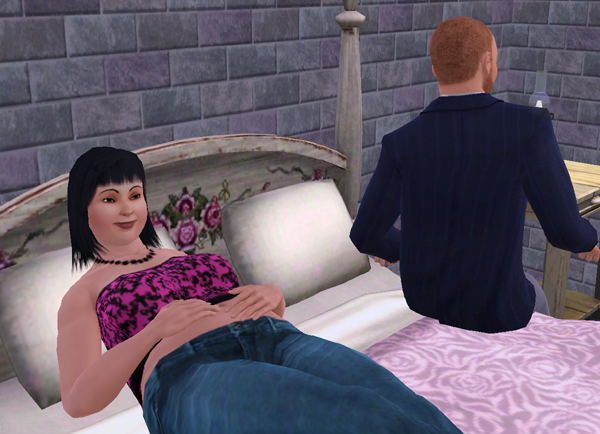 Eventually they got engaged.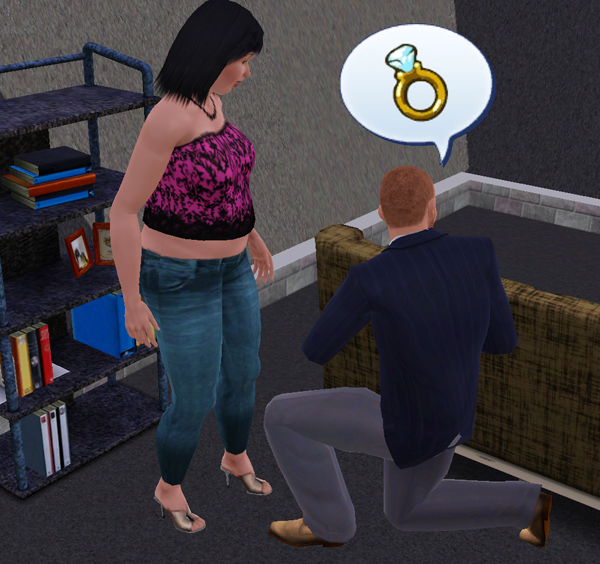 Hunter would have been happy to have a private wedding, but she wanted to get married "properly". She told him she dreamed of getting wed at the Butterfly Wedding Garden.
He was quite concerned, thinking it would cost a lot to throw a wedding that large.
But Monica was a romantic, and nothing but a large, formal wedding would do.
"I've been invited to my friend Ruby Broke's wedding. You'll come with me as my guest? After all, we are engaged now. You will see, weddings are such fun! And I told her all about you... Ruby needed a military man to set off the fireworks, I said you would do that. You WILL come, won't you?"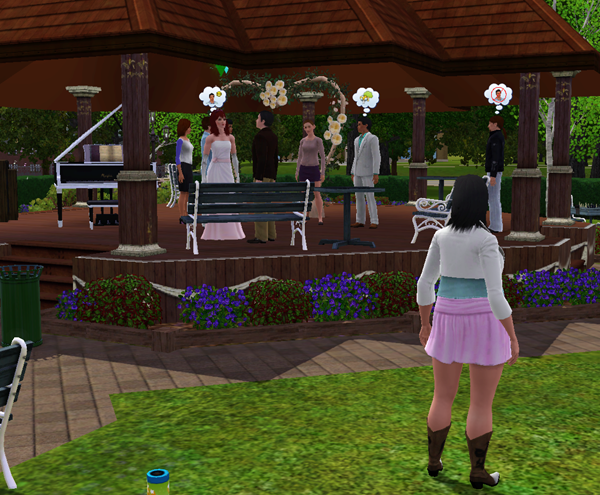 "I'm waiting for Hunter, he should be here by now."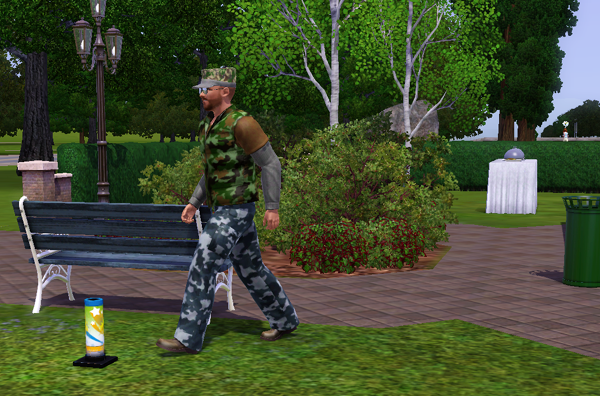 Hunter arrived, late and reluctantly. but the fireworks were a great success.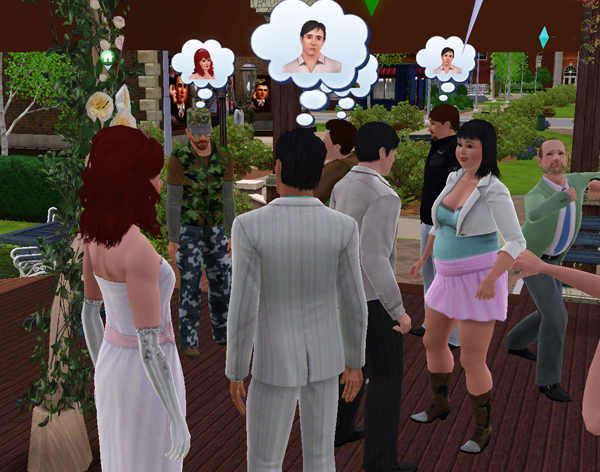 And he was happy for Ruby, who seemed to have found the right man for her, and he hoped now he could just be friends with her.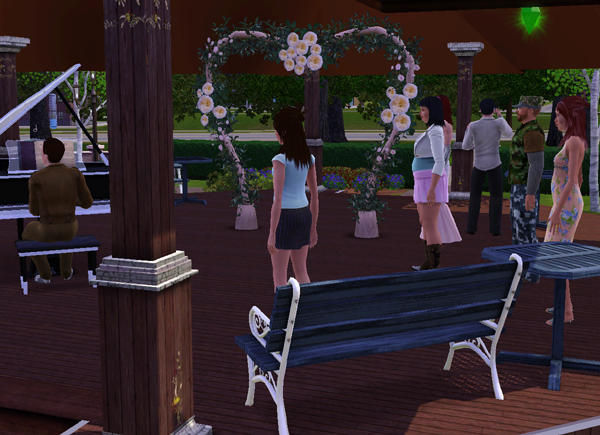 Hunter was not very happy at the wedding. It was far too crowded and one would be far too conspicuous in wedding clothes. And too open! No shelter from snipers here. But he helped himself to some salad and said nothing.
---
Not likely to be continued as this version of my game is now lost.
September 1, 2013
BREAKING NEWS
Hunter survived the apocalypse! Sadly, his fianceée was lost with her family. Much later, he found his way to Isla Paradiso on a houseboat. Read more.
---
Credits
I'm afraid I do not know who made the lovely Gazebo.
Butterfly House Wedding Chapel is a lot made by hann uh at Mod the sims 2
Notes
*This is a Daoist legend. The Goddess Doumu is said to have given birth to the nine stars which make up the constellation. According to the legend, besides the seven visible stars, there are two invisible "attendant" stars, one on either side of the star Alkaid. Thanks Wikipedia for the information.
---