[ Sims 3 Lots ]
[ Prefabs ] [ Container Prefabs ] [Prefabs] [ Lustron Homes ] [ Catford ] [ What Lies Beneath ] [ Mowbray House ] [ Modern Tudor ] [ Pickel Slug ] [ New Venice Skate 'n' Bowl ]
[ Capak Institute ] [ Double Tiny Town House ] [ Tiny Town House ] [ Alvin's House ] [ Gardiner House ] [ Gerber House ] [ Boxy Town House ] [ Sunset Hall ]
[ Civic Centre ] [ Herald Offices ] [ Bay Chinese Cemetery ] [ Gerber House ] [ Corn Exchange ]
I needed a few more small homes for my Wild Palms neighbourhood for the cheaper end of the market (ie to house townies) so am going to build a few of these. Thoroughly irritated online BF by geeking out about these houses. So, new Simming project, for now. Great starter homes, of course, but I want to see how well I can get the enamelled metal appearance to work.
Lustron Homes
"The low-maintenance, extremely durable, baked-on porcelain enamel finish was expected to attract modern families who might not have the time or interest in repairing and painting conventional wood and plaster houses." Wikipedia.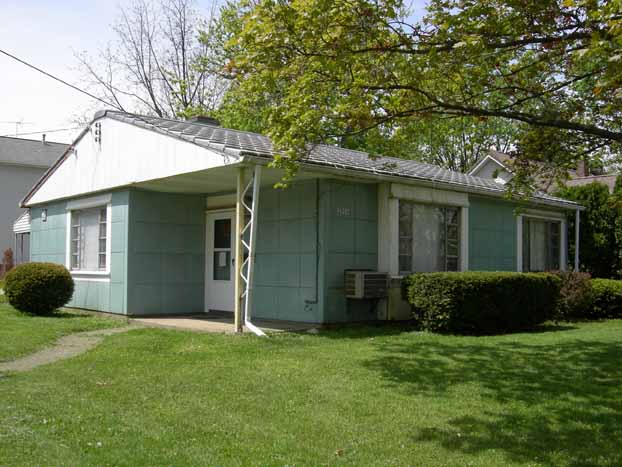 A project of Chicago industrialist and inventor Carl Strandlund, who had worked with constructing prefabricated gas stations, Lustron offered a home that would "defy weather, wear, and time." Carl Strandlund had beeb vice-president of Chicago Vitreous Enamel Products Company, which had produced and sold porcelain enameled panels since the late 1920s.
These houses were claimed to be "fireproof, impervious to decay, rust, or damage from vermin, rats or termites. Sunlight, salt water, or chemical fumes could not stain or fade the finish. The roof never had to be replaced, the exterior painted, nor the interior painted or papered."
Usually built on concrete slab foundations with no basement, but about 40 Lustron homes have been reported to have basements!
The design was innovative, with a steel framing system consisting of vertical steel studs and roof-ceiling trusses to which all interior and exterior panels were attached.
They were assembled on-site by the company's own teams, armed with a special Lustron manual, each house was supposed to be completed by them in 360 man-hours. Some were built on military bases. And they cost about $8,500 to $10,500 in 1949 - 1950. 25% cheaper than comparable houses of a more conventional build.
They came in 4 colours: "Surf Blue," "Dove Gray," "Maize Yellow," and "Desert Tan."
Other sources suggest (in error according to Wikipedia) Blue-Green, Green, Pink, and White.
Windows were usually white/ivory; metal-paneled interior walls [...] were most often gray. Interior doors were sliding doors. All models featured metal cabinetry, a service and storage area, and metal ceiling tiles. In the Westchester Deluxe models, the living room and master bedrooms featured built-in wall units. They had low angled roofs, tiled with metal tiles, and front and rear doors were glazed.
Sadly, the Lustron Corporation went bankrupt in 1950.
I was wrong about the chipped enamel! "The enamel steel roof "shingles" are still keeping many Lustron residents in the dry after five decades of no maintenance. Several homes feature exterior wall panels that never needed painting are intact and rust-free. Historically, enamel metal objects have been known to survive over one hundred years." Wikipedia.
The houses I've built here are a Siminized version of the Lustron. With no sliding doors, and no combined dishwasher/clothes washers, I've had to approximate. None of the four here has a basement. Each home is large enough for one or more Sims; being all two-bedroomed houses each COULD take a small family but the second bedroom is very small, and work best for singles.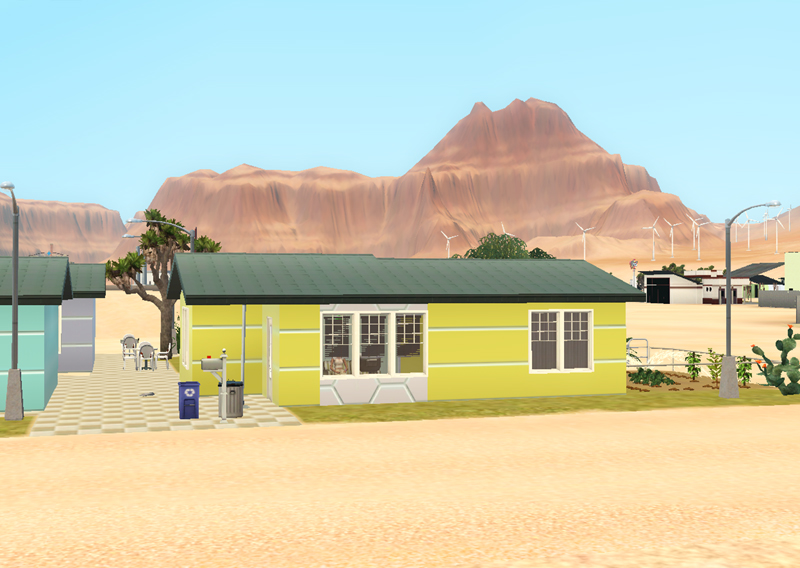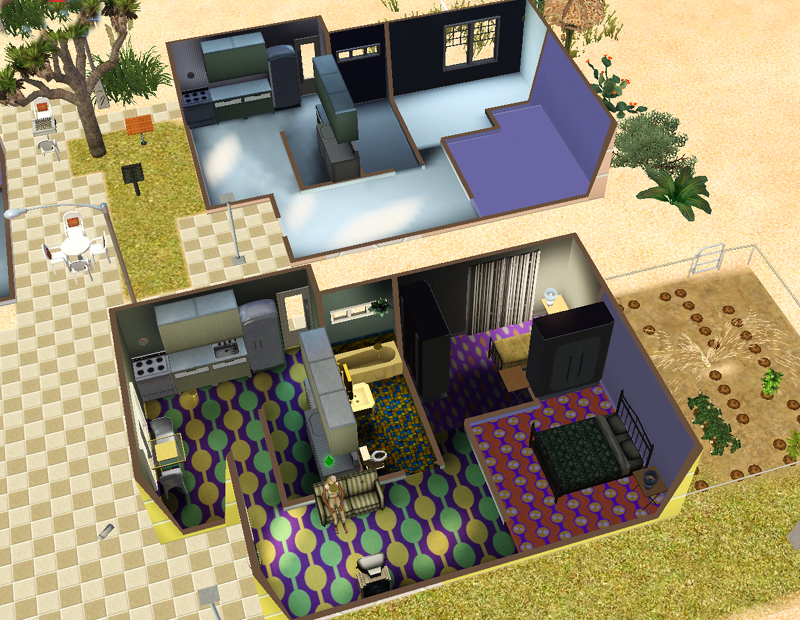 There is the beginning of a garden, which might belong to the community or might be maintained by one keen gardening Sim. Fenced to keep out Zombies, though the addition of peashooters would also help with that. There is a barbecue, and a chess table for skilling. Fire alarms are fitted, but no burglar alarms.
Made with all EPs and SPs installed but no Store or Custom content. The simple slanted column used is from Lucky Palms.
There is a lovely Siminized Lustron 2-bedroomed house at Witchzenka's Blogspot here.
---
Sita January 6, 2017