[ Challenges ] [ Sims 3 Stories ]
Spock Block
Or: Almost Design Challenge No. 3
Spock's Application
Spock heard about another

Design Challenge job available in Bay City. He knew Larry Hookins well, and the Jacksons a little, and thought it would give him a good start in the city; Sims undertaking this type of Challenge, if selected, won a home built and fully furnished, in return for - well, most likely losing their jobs, being made to stand in one place for hours at a time, dropping with exhaustion and hunger, for a few days, managing without a kitchen, bed or toilet for some of the time.

"Well worth it! It's only for a few days, and how long would it take me to earn enough to make the house this good otherwise?"

More reasons for applying:
He had been sharing a house with his friends, Rhayden and Kutto.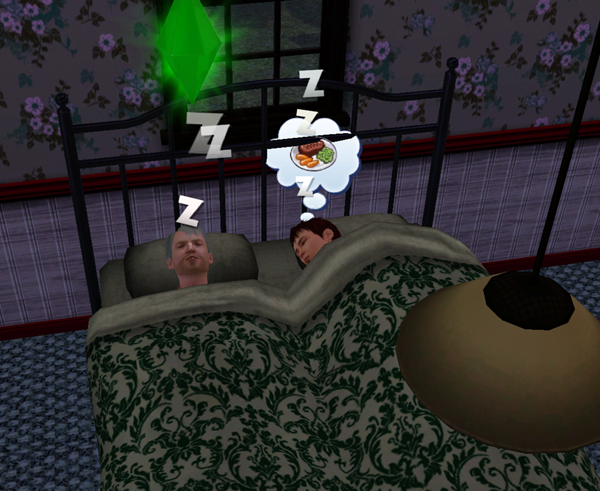 After a party he was shocked to wake up and discover Rhayden in bed with him. Yes, he was sure they had been drinking, but though he liked Rhayden as a friend, he was uneasy about not remembering what had happened, so Spock decided it was time to put some distance between himself and his old friend.
Spock is a Daredevil, Eccentric, GSOH, a slob, and a bookworm.But he is no moocher. His friends were working and he wasn't - just sitting at home reading and trying to write: he wants to write science fiction novels. So he felt it was time he supported himself. He needed something to do.
He WAS working as a Ghostbuster. But not doing too well. Mostly he missed the callouts.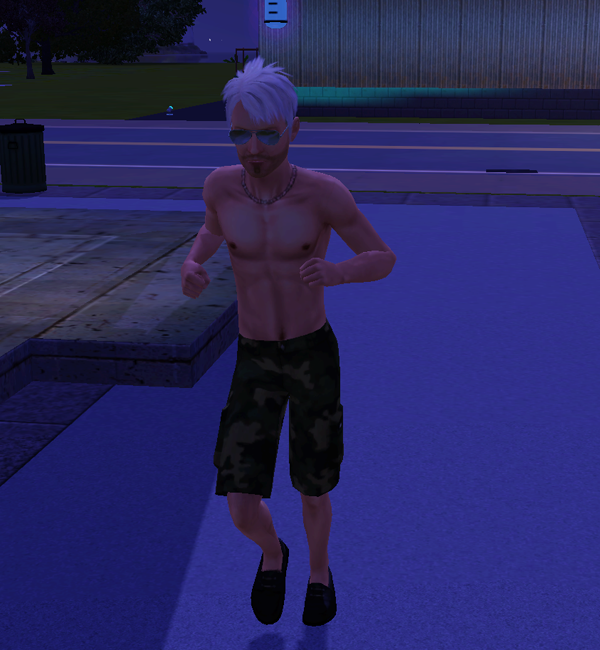 He refused to wear the regular uniform, claiming that he had no laundry facilities and was unable to wash it, while it had been thoroughly slimed.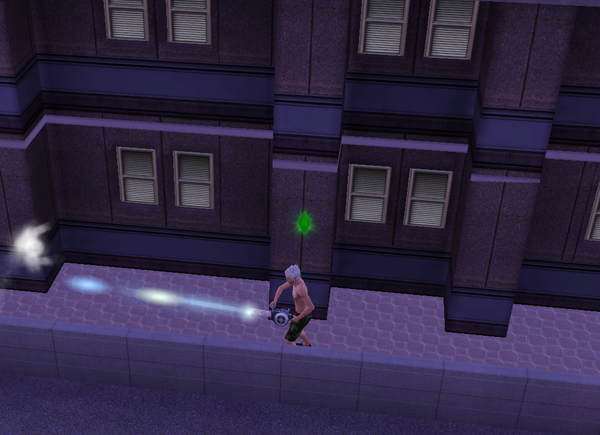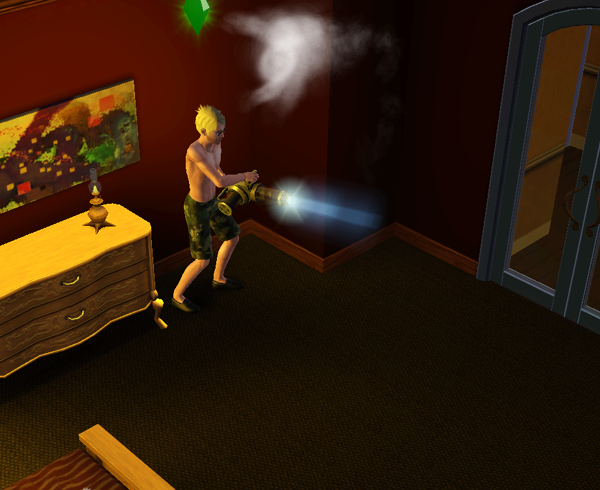 "What have I got to lose?"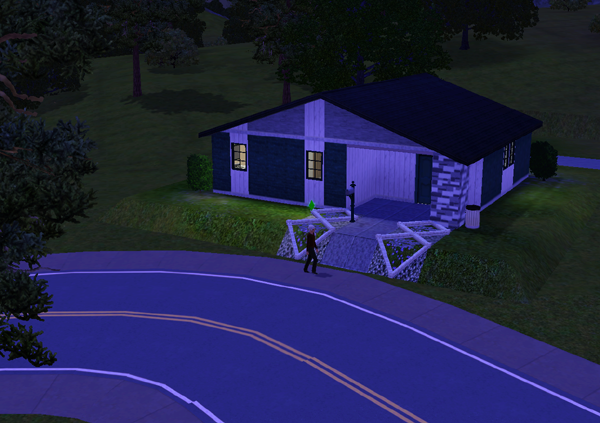 Fortunately, he got a call to say his application had been the only one for the Design Challenge, and to invite him over. The house in question was called Monotone, an EA design. He went over as soon as he got up. The Architect gave him papers showing the terms of the Challenge.
... Custom content and store items are allowed. Walls cannot be altered. You may place doors, any type allowed, in different locations as necessary for your design. More windows in any style are allowed. Landscaping is optional. Outdoor sitting/barbecue areas are optional. Pools are allowed. Rooms do not have to used for the same function as the original. The front column can be removed, as can the driveway. A basement may be added. There is no limit on final cost of lot. There are no winners, this is just for fun. There is no deadline...
The house was built on a sloping plot that was at right-angles to the original Monotone's orientation because that was the only available plot of land in Forum Bay City. The first thing to be moved was the driveway, as Spock wanted to keep his car. It was only an old jalopy but still... he liked the convenience of his own vehicle. (It was stolen later.)
The brick column had to go. It was so Eighties!
Next, the garden. He had some leeway here, and as he was fit and able to do the landscaping, and had nothing else to do...
"I want a low-maintenance garden. One that still looks decent in winter as well as summer. And I like waterlilies, and flowers whose scent comes out stronger in the evening."
"What winter?" asked the architect. "Go for it, sort the garden out while I fix up the house."
He lowered and smoothed the front to make an easier entrance and off-road car parking spot. There are no steps, but carefully planned ramps everywhere. Piece by piece he built a crazy paving pavement that went around the house, and covered most of the garden. There were trees and shrubs, but most of those were in pots. There was a moon-shaped ornamental pool with waterlilies and a fountain at the top of the garden. There were simple flowerbeds of blue blossoms at two corners of the garden, a border of lavender by the pool, and a tall fence for privacy.
Now we come to the house itself. The architect said that it seemed to be begging for a basement.
"Start digging, Spock!"
"What, again? I just did all that earth-moving!"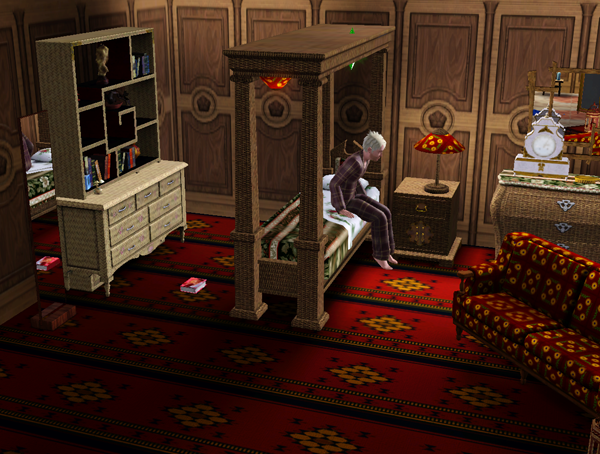 In the basement: his (single, in case you were wondering!) bedroom and an open-plan bathing room, with toilet and a deep dipping pool, a rainwater-powered shower for hygiene, and a toilet tucked away in a tiny room behind the stairs. Architect's note: I wanted to avoid adding any walls in the basement, but I had to for the toilet.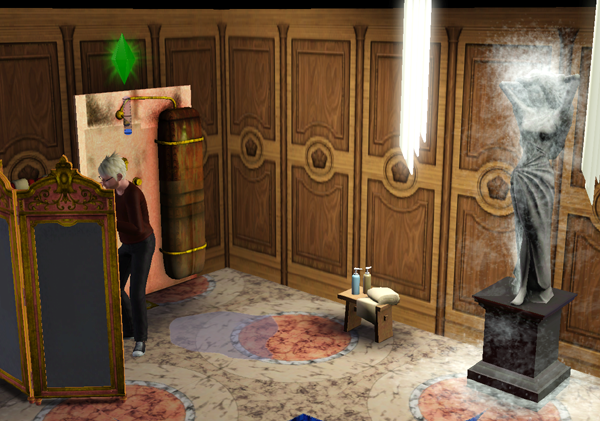 The sculpture is fitted with a fountain jet, so the sound of trickling water pervades the room. Of course, it also humidifies it, hence the wooden panelling.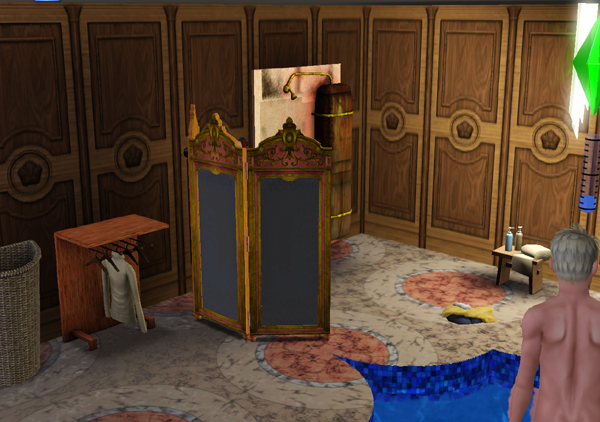 The mirror screen is completely steamed up!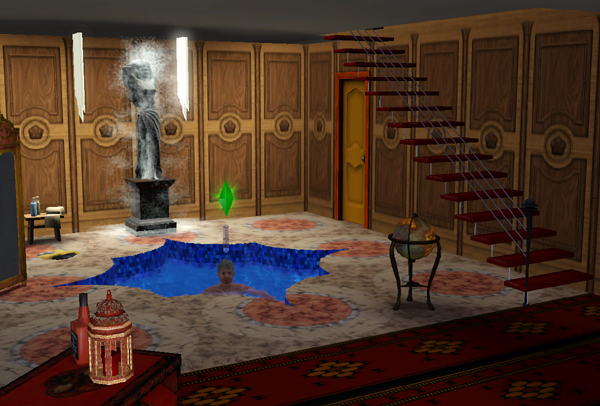 A touch of luxury in the deep pool.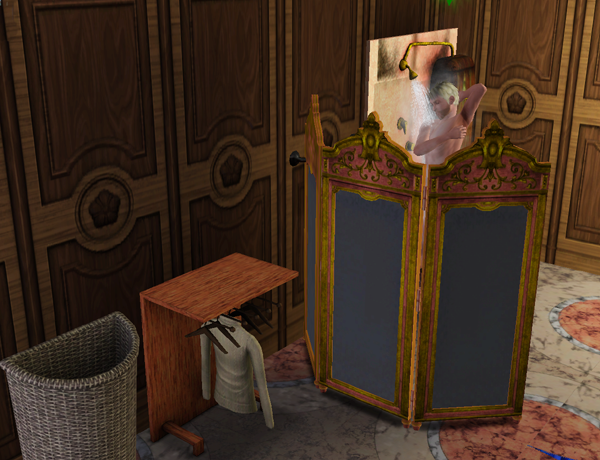 Gratuitous shower-shot. All that digging made him pretty fit.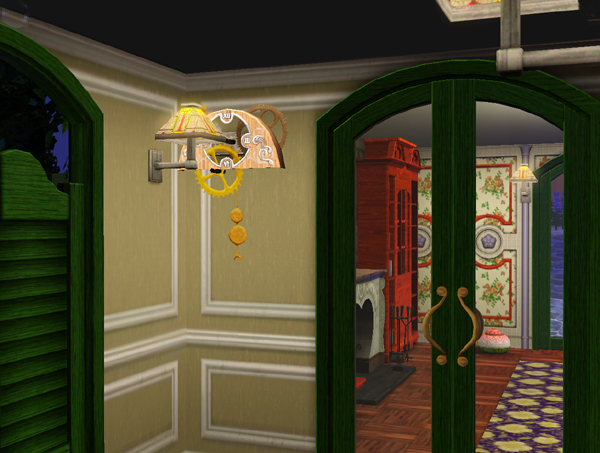 Moving up, this is the entrance hall.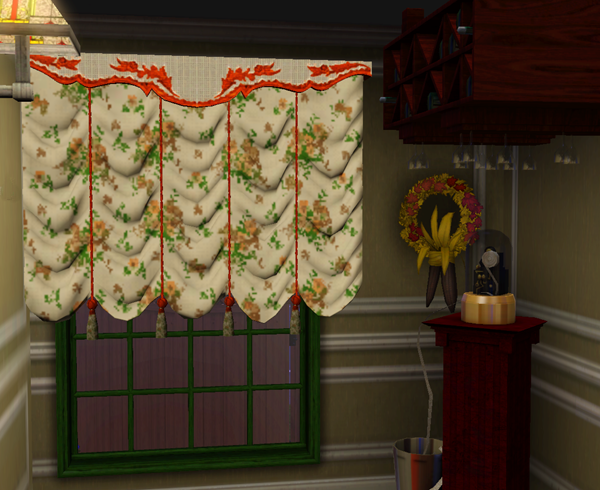 It's quite cool here because of the ranch-style doors, and now houses a nectar rack, which would be impossible in the steamy basement, his ticker-tape machine and a few assorted knick-nacks.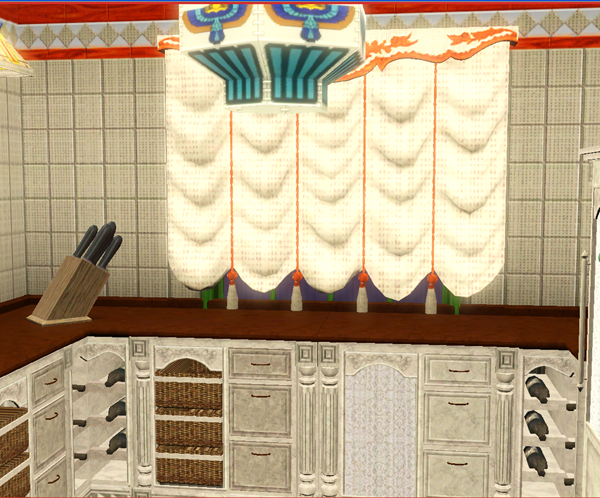 The kitchen.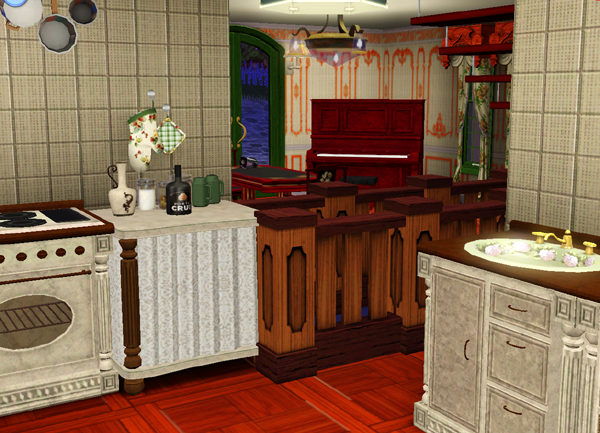 The blocky wooden fencing is the surround for the stairway; it replaced part of an internal wall, though there was partial fencing or half-wall there already. The architect says the wall wasn't load-bearing, and though it disqualifies the house for the Challenge, it opens up a view of the dining\music room.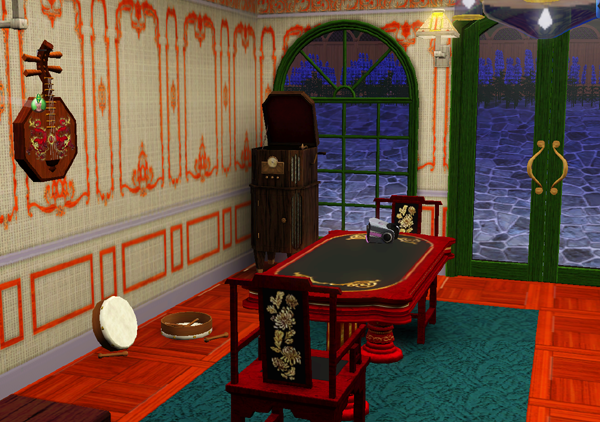 The dining room with his musical instrument collection (a couple of bodhrams from the Old Country, as well as his piano).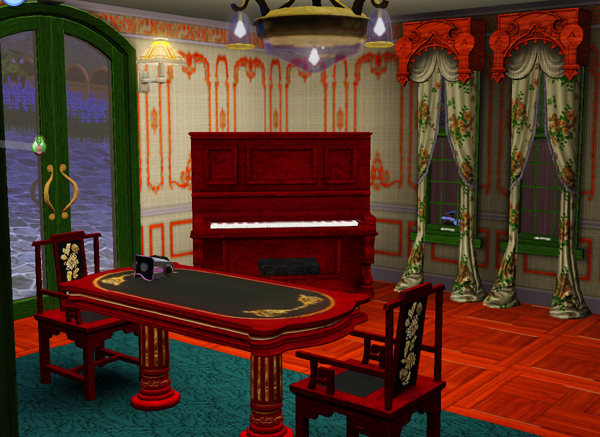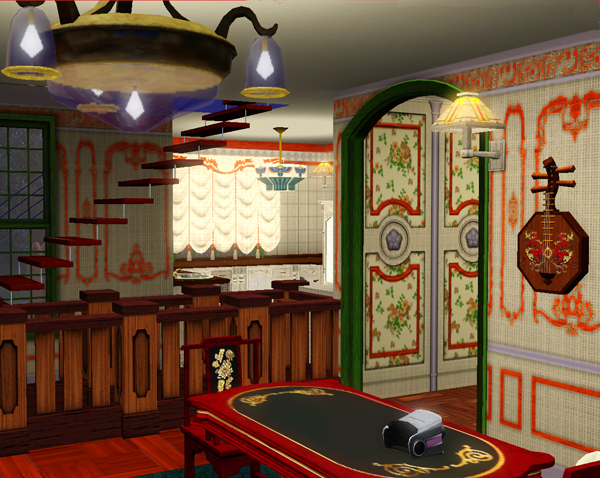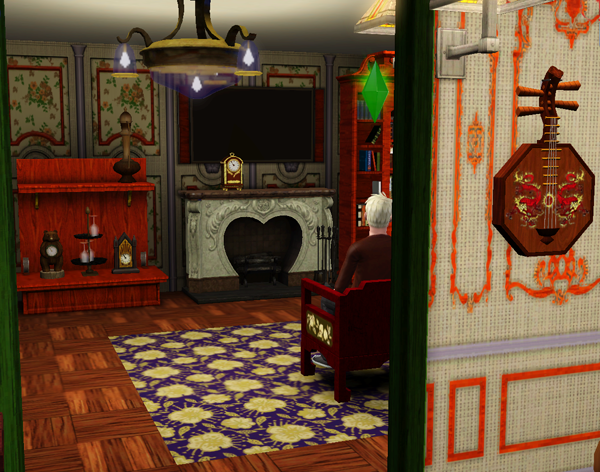 The sitting room houses some of his collection of clocks, the TV and the lovely Art Deco fireplace. I hope he's not going to set the whole thing on fire.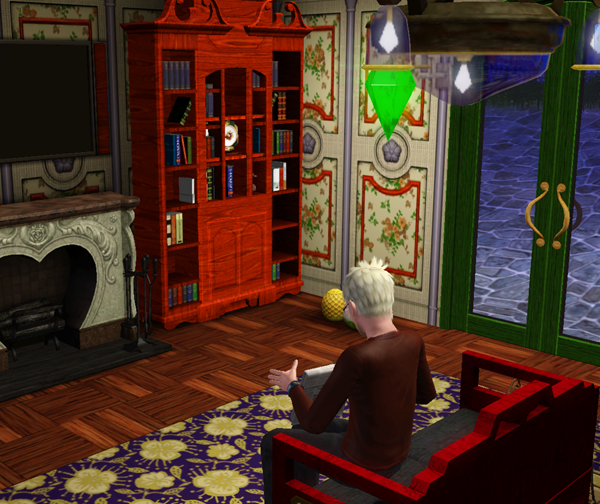 Large bookcase. He reads a lot.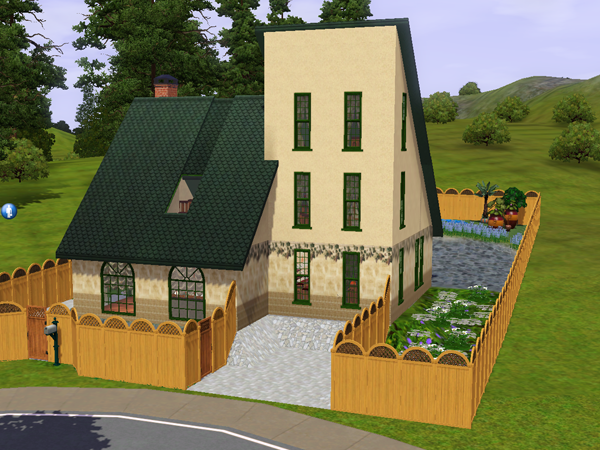 Achitect's note: I confess, the roof did tempt me, and I did baaaaad! I wanted to experiment with Pinecat's wonderful skylight windows. My justification was that a half-gabled roof creates its own wall on one side, so I thought - well, that's not really adding a wall... that's just changing the roof! And those wonderful stairs... and those curtains! I did get a little carried away.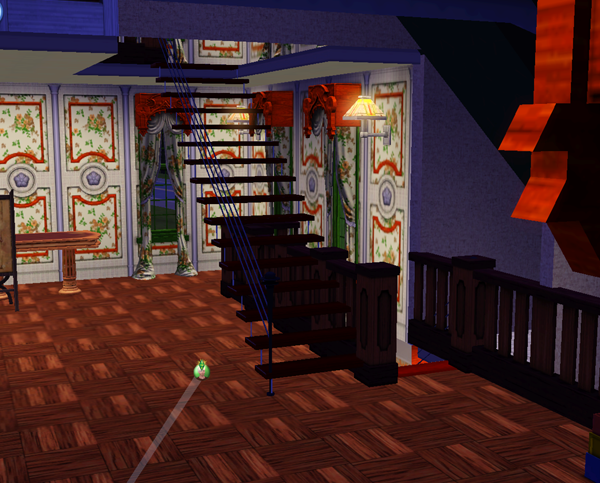 So... There is quite a large attic room, unused at the moment, which may make a good party room. Or extra bedroom, if Jen ever consents to move in with him.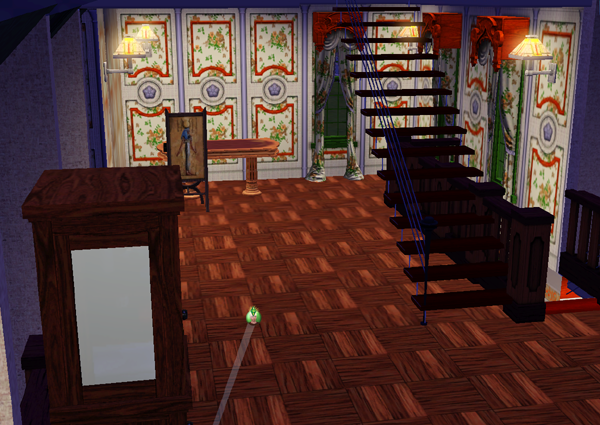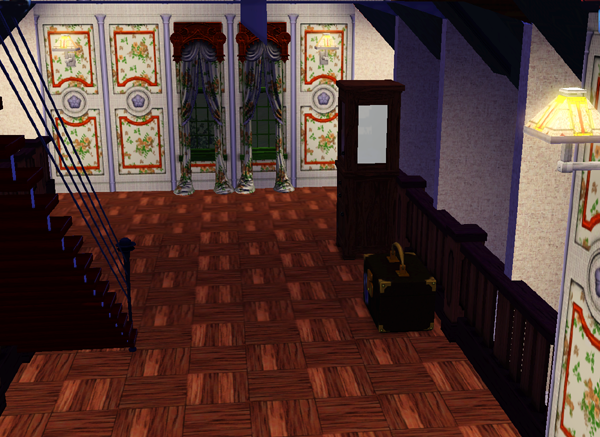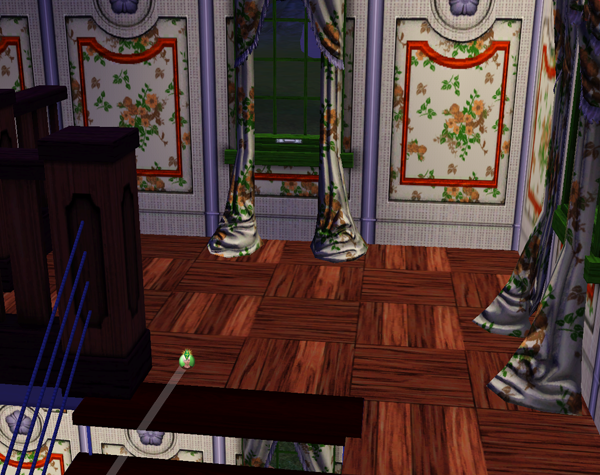 And at the very top of the house is - well, not a lot. A landing.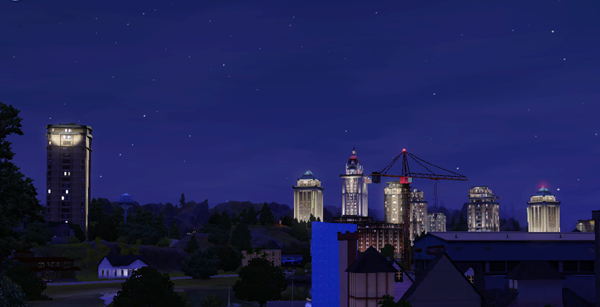 Spock snapped a picture of the evening view from the very top of the roof while he was working up there.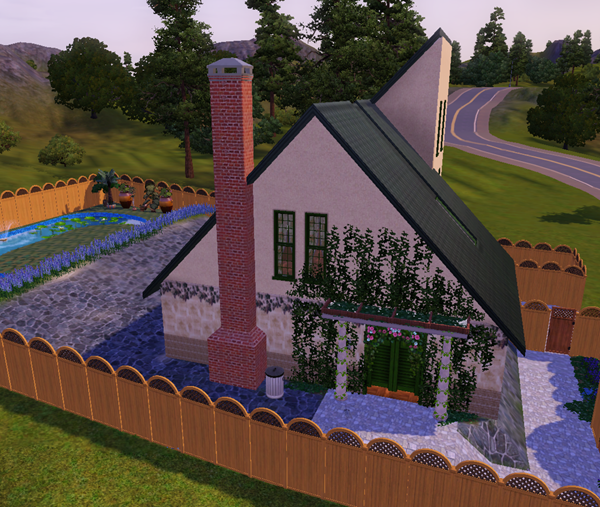 The garden was more or less complete with the planting of some ivy around the front door, and some alterations to the chimney. (Front door and chimney are at the sideof the property.)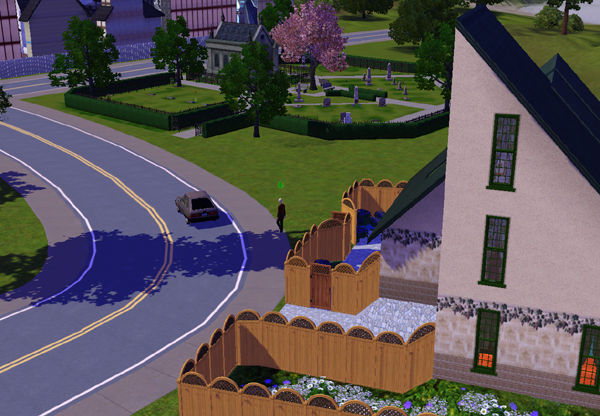 Showing the position of the house in the Hood; quite close to the old cemetery.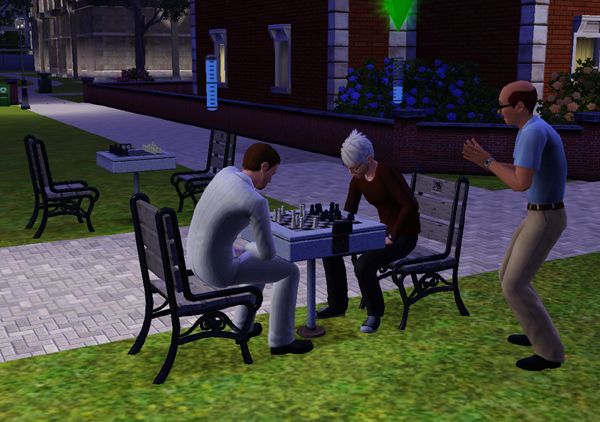 He escaped and went to work. Maybe he could keep a job as a Spell Checker Checker. After work, playing chess with Fairlight, Larry spectating.
A week later, while the photographers were still busy, the newly installed burglar alarm went off in the middle of the night.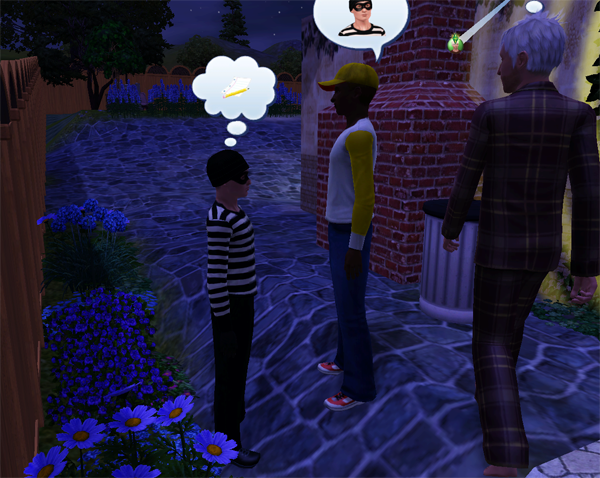 Spock got him cornered in the garden.
PC Woodrow turned up - dressed as a paperboy? "I have two jobs, to pay off my ex-wife" he explained, "And it's nearly time to start my paper-round."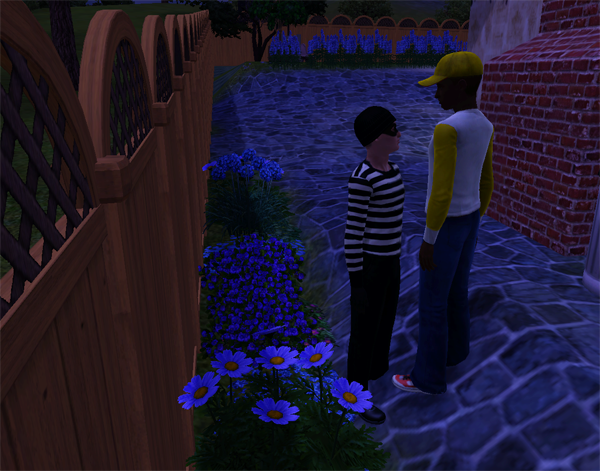 "But this guy is only young - he hasn't taken anything yet, has he? Should I even arrest him?"
Woodrow was still pondering the ethics of the question when the thief ran past him and toward the gate. Spock, thinking quickly, locked the gate - but forgot there were two gates, one leading to the driveway.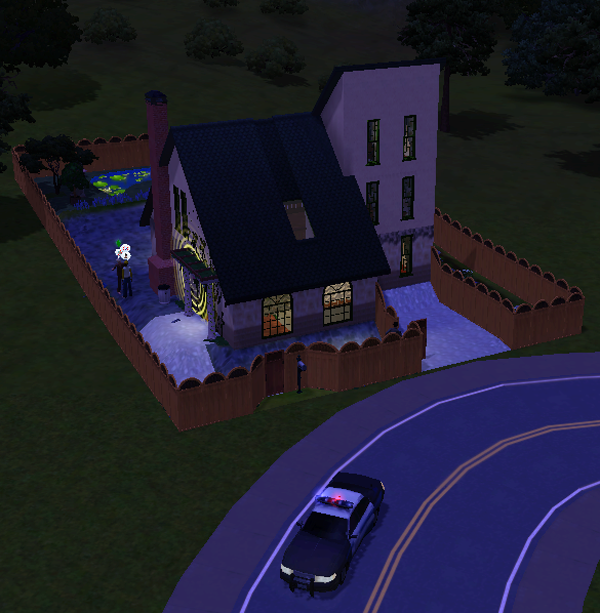 As you can see if you squint - the thief escaped. Spock was pretty angry at Woodrow.
---
---
Credits
SpockBlock is a selfSim from MATY
Pinecat's windows are free at TSR and come with pictures on the page of how to make them work.
The kitchen is furnished mostly with furniture from MK. (I don't remember where that was.)
All the musical instruments are from ATS.
The staircase was an inspiration. It's by Shakeshaft on TSR - search for Aveline.
The wide Roman blind curtain is by MK. Im not sure where I got it, possibly TSR.
The narrow curtain with pelmet is part of EA's Goth Store set.
---
August 21, 2016