Island Paradise gives us BOATS!
See also SimsVIP's IP Guide (PDF)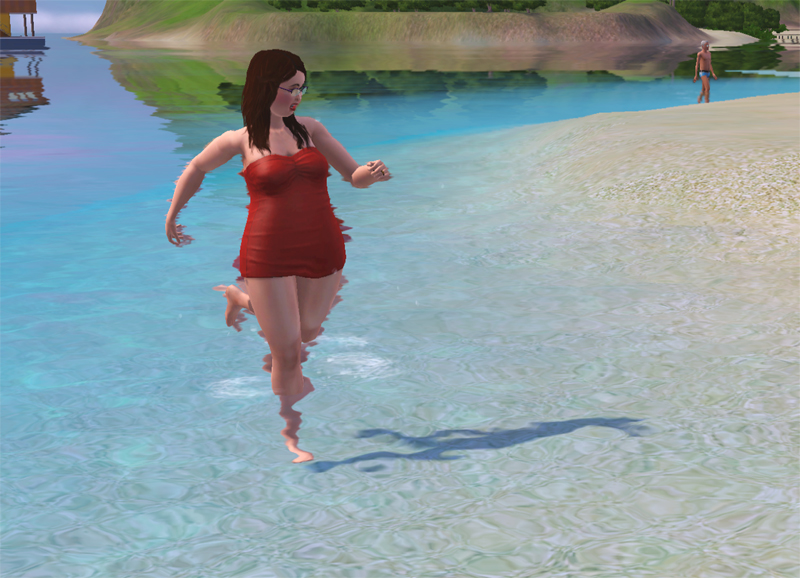 Basements in Houseboats. One level deep basement. This is considered to be the hull of the boat. To go down into the hull of your boat, a new interaction named "Go Below Deck" is available when clicking on surfaces of your houseboat.
Can I place multiple gangways on a single port to allow multiple houseboats to dock there?
No. You are only allowed to place one gangway per port. Using cheats to place extra gangways will not allow additional houseboats to dock at that port. To dock, each houseboat needs its own unique port.
Can a basement built in a houseboat function as a nectar cellar?
Yes. The hull of a houseboat can function as a nectar cellar for aging your nectar and increasing its value.
Can I build or play on the curved area of a houseboat?
No. The curved section of the houseboat is part of the hull model, and is not a buildable or routable surface. The curved bow is purely visual.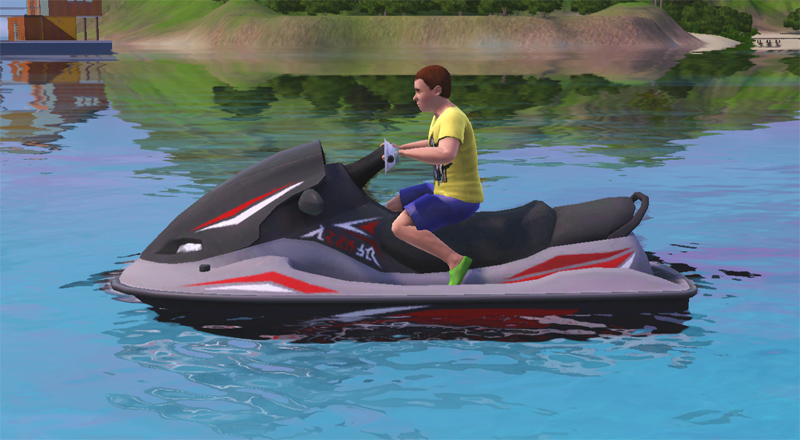 How do I buy a boat or a car when living on a houseboat? There's no room to place the boat trailer or a parking spot!
It isn't intended that you place a boat trailer/parking spot on your houseboat to purchase a vehicle. We've actually added a new "Purchase Vehicle" interaction that's available when clicking on any trailer/mooring post/tie down/parking spot/etc that's on your home lot or any community lot in the world. You can buy a vehicle directly from those objects that your Sim will own and use.
In Isla Paradiso, many of the ports already come with mooring posts and parking spots so that you can do exactly this. If you're building a port in another world, I suggest adding those two objects so that you can easily buy vehicles for your houseboat dwelling Sims.
To make a new Houseboat go to Edit Town mode.
Scuba Diving
Take a class at the Science Lab or Snorkel and after Sim reaches a certain skill s/he will be able to choose Snorkel.
Once they have Snorkeled for long enough they will be able to Dive.
---
Traits added with IP
Sailor

Sailors love the open sea and would much rather be on a boat than on land. They are better at catching fish and are less likely to get seasick.

Loves To Swim

gain a special joy being in the water.
New Career

[Sims by Cloudwalker]
New LifeTime Wants
Resort Empire

To become a true hotel mogul, your Sim will need to manage employees, maintain a profit,
and always satisfy patrons. Once your Sim has created the perfect resort empire, travelers from all around
will flock for a chance to stay at your luxurious getaway.

Own a Five Star Resort
Collect 40,000 Simoleans in Resort Profit
Seaside Savior
Deep Sea Diver

The bottom of the ocean hides treasures and creatures never seen by land dwelling Sims. Only
the bravest and foolhardy divers can survive the deadly deep searching for underwater riches.
Be sure to bring your oxygen tank!

Master the Diving Skill
Earn 40,000 Simoleans from Selling Diving Collectibles

Grand Explorer

There are mysterious lands yet to be charted by any Sim. To find them, your Sim must set sail,
brave the high seas, and dive the deepest oceans. Search high and low for these uncharted islands
and claim them as your own.

Own all Uncharted Islands

There's a multitude of different ways to discover uncharted islands. Some can be discovered by simply exploring the area around them via boat, and others will take a little bit more investigation. Try talking to some of the local Isla Paradiso residents, as they have inside knowledge of the surrounding islands and may send you on a quest for discovery!
Resorts
• The easiest way to get into resort management is to "buy" Hobart's Hideaway. This once, beautiful resort has fallen into disrepair and needs a lot of work, but it is a great way to kick start your resort empire without too much financial commitment!
Due to the state of the resort, it's going for the low, low price of §0.00! It will get you into resort management much quicker than building one from scratch.
• Keeping guests at your resort happy is a tricky thing to do! Amenities and fun objects found in the Resort Objects Tab in Build & Buy Modes are key to making sure your resort guests have a great time. Happy guests can mean a successful resort!
Ultimate Reward for the Lifeguard Career
When a Lifeguard has rescued 35 drowning Sims - only rescues from the water count - s/he is awarded the Cay to the City island.
Ultimate Reward for the Resort
Completing the Resort Mogul Lifetime Wish gives
"Congratulations on the Five-Star Resort! An investor was so impressed with your business acumen, that he gave your Sim the deeds to this private island. Maybe another 5-star resort is in your future!"
Pretty nice bonus on top of the LTH Points! It is a 60x60 lot.
Mermaids
• Scuba diving Sims may encounter a mysterious mermaid from time to time beneath the waves. Becoming friends with one is key to revealing the secret behind transforming your Sim into one of them!
Water Sports
Make two or more sims go "boating" in a speedboat.
Then have the driver "go to shore."
Once the boat is on a shore have your sims "board" the boat.
While the boat is not moving make a passenger click on the boat.
The option to water ski will appear.
The option will not show up while the boat is in motion.

How to make a "hidden island" in other worlds than Isla Paradiso
---