Stairs
[ Sims 2 Cheats ] [ Tutorials ] [ Sims 2 Extra ] [ Homecrafter Plus ] [ Apartment Life ] [ Reinstalls ] [ Seasons Tips ] [ Baby Clothes ] [ Chemistry ] [ Death ] [ Religious artefacts downloads for Sims 2 ]
[ Skinning with BodyShop ] [ Transparent Glass Tiles ] [ Stairs ] [ Basement Building ] [ Built-in Garage ] [ Building on Slopes ] [ Going Up ] [ Export Lots ] [ Export Sims ] [ Custom Neighbourhoods ] [ Making Sims 2 Terrains in Sim City 4 ] [ A Brand New City ] [ My Documents ]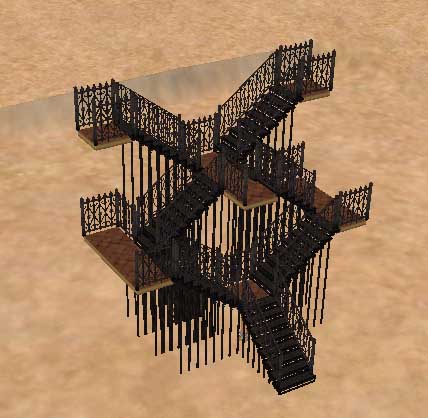 Stairs are very interesting in Sims 2. I've played around with them a bit and here are a few rock-bottom tutorials and walkthroughs for your delectation.
[ Dogleg Inside Foundation House ] [ Dogleg Staircases ] [ Nustairs ] [ Stairs in Foundation ] [ Spiral Stairs ]
The stairs above were made using the principles shown in the Dogleg Staircase tutorial. Download them to play around with if you like here.
---